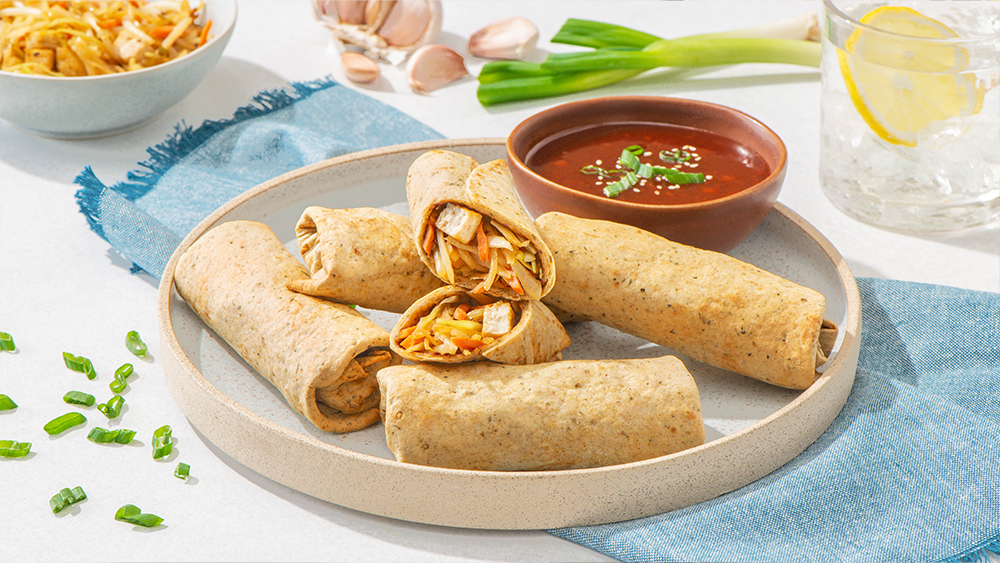 Air Fryer Egg Rolls
Prepared with Mission Protein Garlic Herb Flavored Tortillas, these crispy air-fried egg rolls are loaded with lots of veggies and tofu for a satisfying lunch or dinner.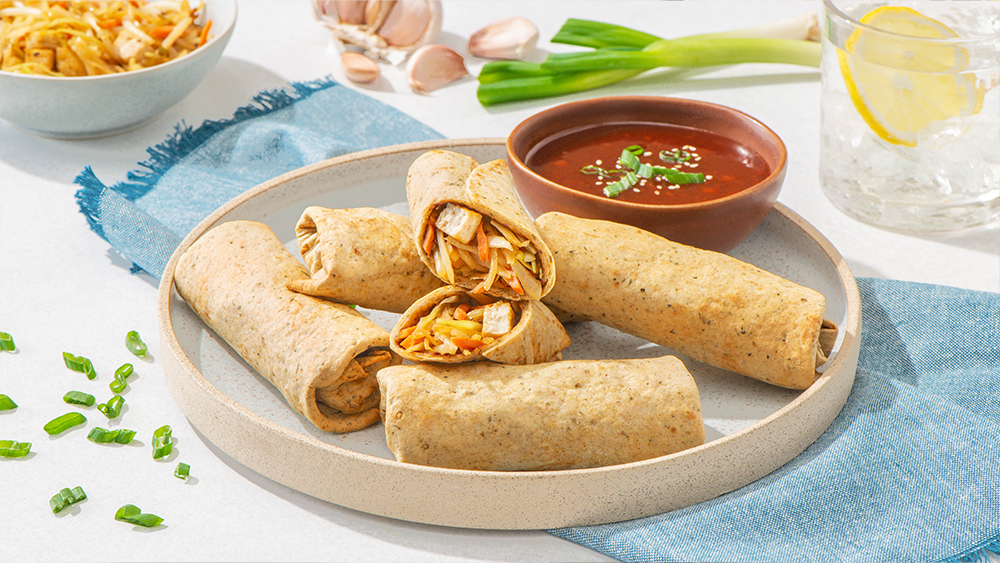 Featured Product
---
Ingredients
---
4
Mission Protein Garlic Herb Flavored Tortillas
1/4
cup grapeseed oil, divided
2/3
cup diced extra-firm tofu
3
scallions, thinly sliced, divided
Sweet and Sour Dipping Sauce:
2
tbsp no-sugar-added ketchup
2
tbsp apple cider vinegar
2
tsp monk fruit sweetener
Instructions
---
Step 1: Prepare Egg Roll Filling
In large wok or skillet set over high heat, add 2 tbsp grapeseed oil. Add tofu and cook, stirring frequently, for 3 to 5 minutes or until golden. Using slotted spoon, transfer to small bowl. To wok, add ginger and garlic. Cook, stirring frequently, for 1 to 2 minutes or until fragrant. Add 1 tbsp grapeseed oil, bean sprouts, cabbage, carrots and two-thirds of the scallions. Cook, stirring occasionally, for 3 to 5 minutes or until vegetables are tender-crisp. Return tofu to wok and stir in soy sauce, sesame oil, salt and pepper.
Step 2: Assemble Egg Rolls
Spoon 1/3 cup vegetable filling down center of each tortilla. Fold in sides, then fold bottom of wraps over filling and roll up tightly like a burrito. Brush tops of tortilla egg rolls with remaining grapeseed oil.
Step 3: Air-Fry Egg Rolls
Preheat air fryer to 400°F according to manufacturer's instructions and grease basket. Arrange egg rolls in air-fryer basket and air-fry, turning halfway through, for 6 to 8 minutes or until golden brown and crispy.
Step 4: Prepare Sweet and Sour Sauce
Meanwhile, in another small bowl, whisk together ketchup, soy sauce, vinegar and sweetener until combined.
Step 5: Serve Rolls and Sauce
Serve egg rolls with sauce for dipping. Garnish with remaining scallions.
Tip
Alternatively, serve egg rolls with your favorite sesame dressing or dip if preferred.
---