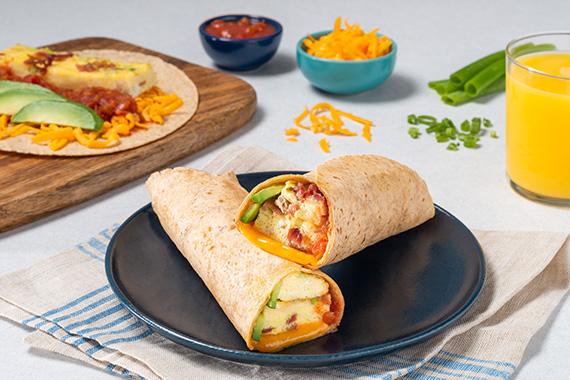 Featured Product
---
Ingredients
---
6
Mission Protein Tortillas, warmed
6
strips cooked bacon, chopped
6
tbsp chopped green onions, divided
½
cup shredded Cheddar cheese
½
cup shredded Mozzarella cheese
Instructions
---
Step 1: Cook Breakfast Fillings
Heat oil in large skillet set over medium heat. Whisk eggs in bowl; stir in bacon, half of the green onions, salt, pepper and paprika. Add to skillet; cook for 5 to 8 minutes or until set (scramble eggs or leave firm as desired).
Step 2: Heat Tortilla
Heat tortilla according to pack instructions. (To make your burritos even more protein packed use Mission Protein Tortilla Wraps.)
Step 3: Add Breakfast Fillings
Divide cheddar, mozzarella and egg mixture evenly among warm tortillas. Top with avocado, salsa and remaining green onions.
Step 4: Fold Burrito
Fold up bottom of tortilla over filling; fold in sides and roll up tightly starting from the bottom.
Tip
For vegetarians and those in the mood for meatless protein packed breakfast burrito, swap your favorite meat substitute, such as tempeh, chopped vegan breakfast sausage, or smoked tofu for bacon if desired.
---