Featured Product
---
Ingredients
---
8
Mission Carb Balance Soft Taco Flour Tortillas
2
Tbsp vegetable oil, divided
1
red bell pepper, seeded and thinly sliced
8
asparagus spears, trimmed and cut into 1" pieces
8
oz mushrooms, thinly sliced
1
large avocado, pitted and chopped
Instructions
---
Step 1
Rub steak with 1 tsp. salt and pepper.
Step 2
In a large, heavy skillet over medium-high, heat 1 tbsp. oil. Cook steak, flipping once, until cooked to desired degree of doneness, 2-3 minutes per side. Transfer to a cutting board.
Step 3
In same skillet heat remaining 1 tbsp. oil. Add bell pepper, asparagus, and mushrooms and ¼ tsp. salt and cook, stirring frequently, until tender, about 5 minutes.
Step 4
In a large, dry skillet over medium, heat tortillas 1 at a time, flipping once, until heated through and pliable. Transfer to a plate and warm remaining tortillas, stacking them on top of each other.
Step 5
Thinly slice steak and serve with vegetables in tortillas. Top with avocado and salsa.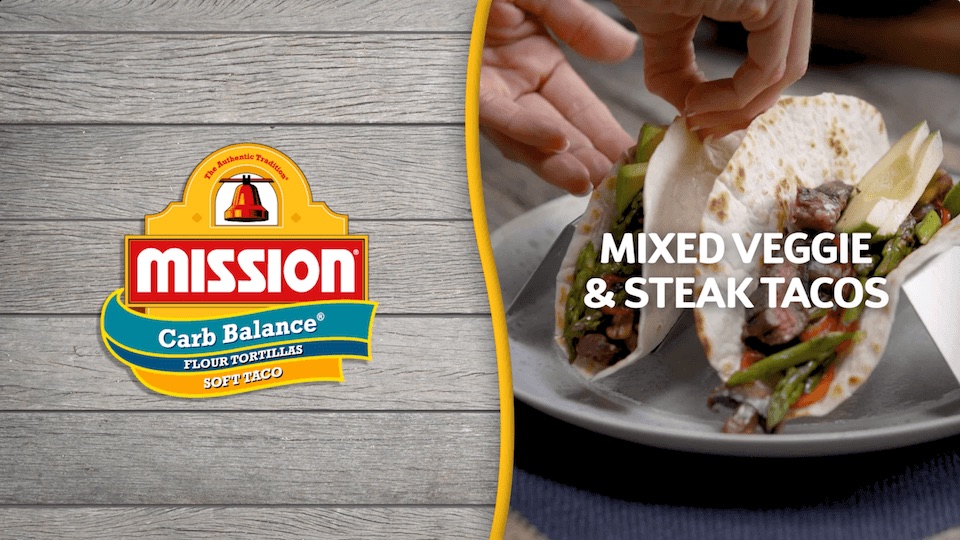 ---