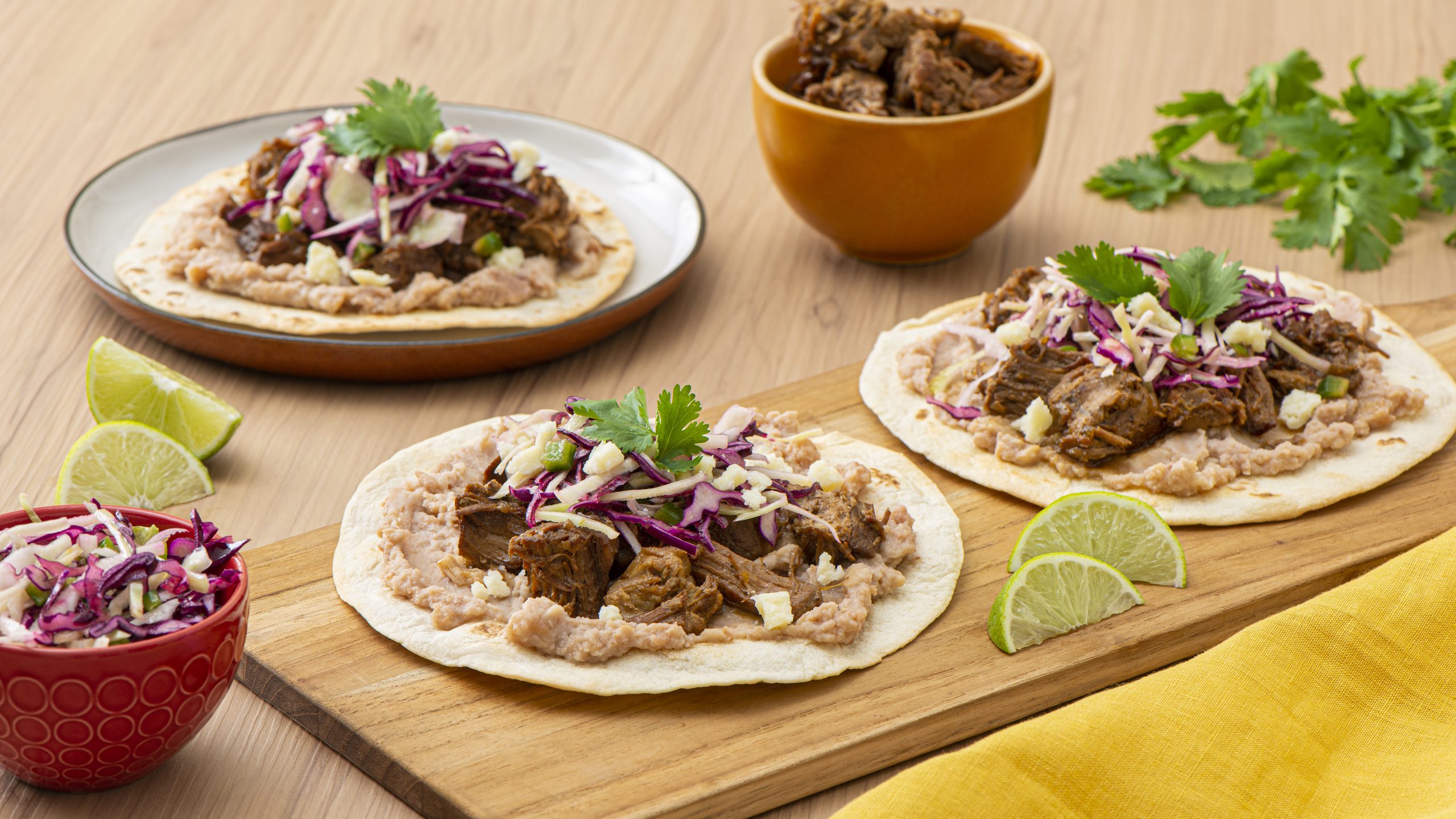 Pork Carnitas Tostadas
Topped with slow-cooked pork, refried beans and zesty lime slaw, these baked tostadas make a family-friendly lunch or dinner that shines with textural variety.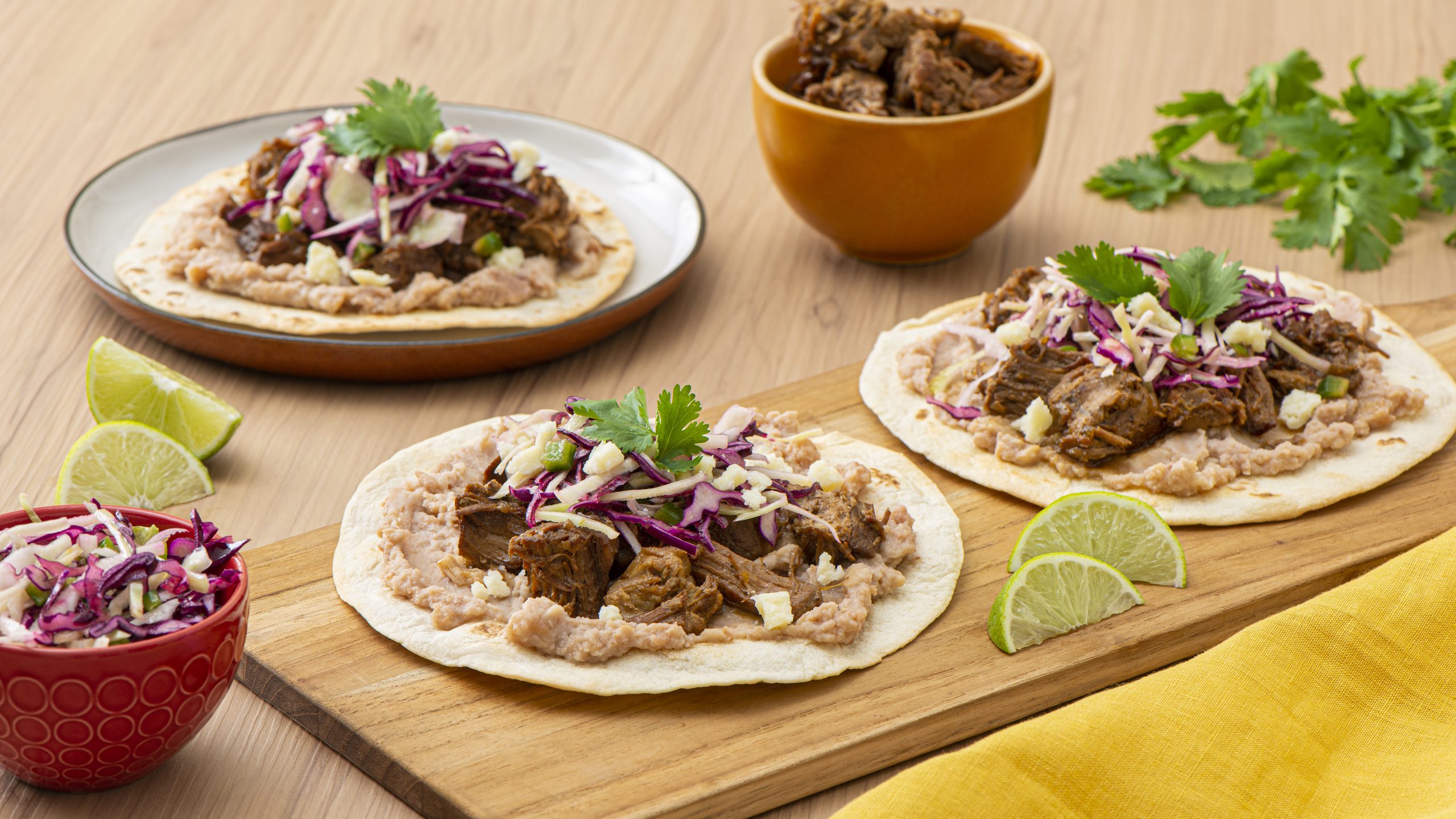 Featured Product
---
Ingredients
---
12
Mission® Soft Taco Flour Tortillas
1
boneless pork shoulder (about 2 lbs), trimmed and cut into 2-inch chunks
1
dried ancho chile pepper, stemmed and seeded
1
onion, coarsely chopped
1/2
cup freshly squeezed orange juice
1/4
cup freshly squeezed lime juice
1
bag (12 oz) shredded cabbage
1
jalapeño pepper, seeded and diced
1
tsp freshly grated lime zest
3
tbsp freshly squeezed lime juice
12
Mission® Soft Taco Flour Tortillas
1
can (14 oz) refried beans, warmed
3/4
cup crumbled cotija cheese
1/2
cup packed cilantro leaves Lime wedges, for serving
Instructions
---
Step 1: Preheat Instant Pot
Pork Carnitas: Preheat Instant Pot on SAUTÉ mode; add olive oil.
Step 2: Cook pork mixture
In medium bowl, season pork with cumin, salt and pepper. Transfer to Instant Pot; cook, stirring occasionally, for 5 to 7 minutes or until xxxx. Add ancho chile, onion, garlic and bay leaves. Pour in 1/2 cup water, orange juice and lime juice; stir to combine. Set to PRESSURE COOK on HIGH for 30 minutes. Let pressure release naturally. Let cool for 10 to 15 minutes. Using 2 forks, shred pork; stir to reintegrate. Discard bay leaves.
Step 3: Prepare slaw
Zesty Cabbage Slaw: Meanwhile, in large bowl, toss together cabbage, garlic, jalapeño, oil, lime zest, lime juice, salt and sugar until combined.
Step 4: Preheat oven
Step 5: Bake tortillas
Tostadas: Arrange tortillas on 2 large lightly oiled baking sheets, spacing evenly apart. Bake, turning halfway through, for 10 to 12 minutes or until crisp.
Step 6: Assemble tostadas
Top tostadas with refried beans, pork mixture, slaw, cotija and cilantro. Serve with lime wedges.
Tips:
Alternatively, air-fry tortillas. Preheat air fryer to 350°F according to manufacturer's instructions. In batches to avoid crowding, place tortillas in air-fryer basket and air-fry, flipping halfway through, for 4 to 6 minutes or until crisp.
If preferred, cook pork in slow cooker on LOW for 5 to 6 hours or on HIGH for 3 to 4 hours.
Microwave ancho chile powder on HIGH for 45 to 60 seconds to lightly toast. Substitute ancho chile pepper with pasilla chile pepper or dried chipotle pepper if preferred, or use 1 tbsp Mexican-style chili powder.
---