Featured Product
---
Ingredients
---
4
Mission Street Taco Flour Tortillas, warmed
4
Tbsp Extra-virgin olive oil
1
cup Shredded potato (1 large, peeled potato)
Salt and pepper, to taste
1
Tbsp prepared pesto sauce
Instructions
---
Step 1
In small bowl stir together sour cream and pesto sauce; set aside.
Step 2
Heat medium skillet over medium heat. Add 2 tablespoons olive oil, potatoes, mushrooms, and onion; cook, stirring occasionally, until potatoes are slightly browned (8 to 10 minutes); keep warm, set aside.
Step 3
In large skillet over medium heat add remaining 2 tablespoons olive oil. Carefully break eggs, one at a time, into skillet. Cook until bottom of eggs are set (3 to 4 minutes). Carefully flip over each egg and continue cooking for 30 to 60 seconds.
Step 4
To assemble taco: Down the center of one flour tortilla place ¼ of potato mixture, 1 cooked egg, 1 slice of bacon, and 1 tablespoon pesto sauce. Repeat with remaining tortillas and ingredients.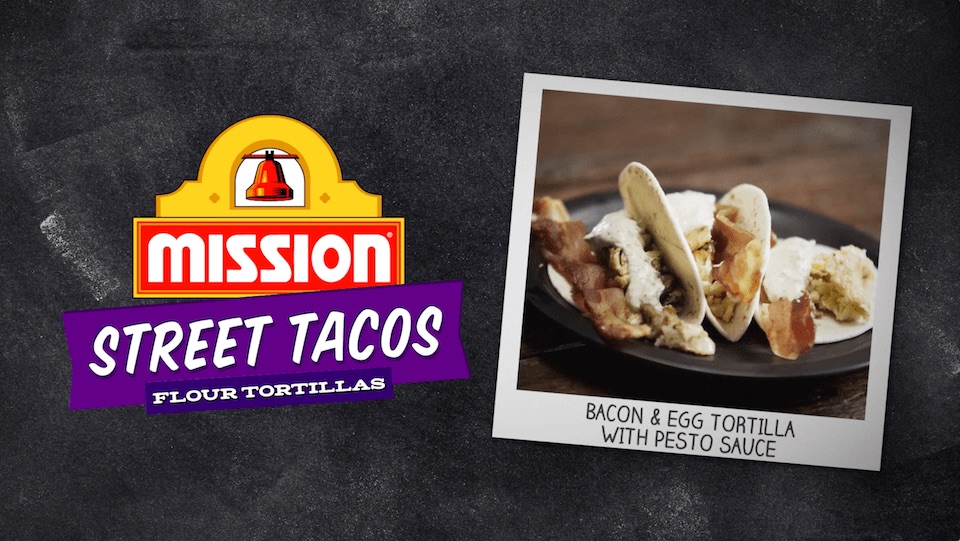 ---