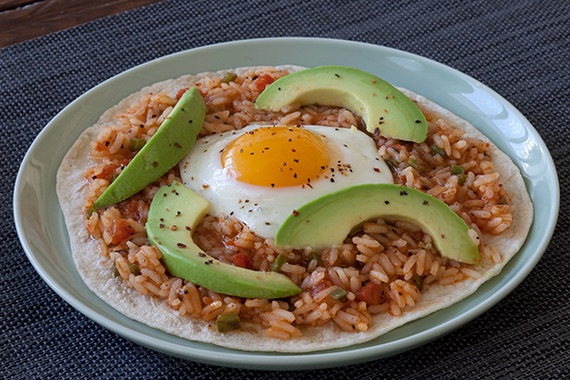 Featured Product
---
Ingredients
---
4
Mission Organics Flour Tortillas
½
cup organic vegetable broth
1
cup long grain rice, rinsed well and dried
1
avocado, peeled and thinly sliced
Instructions
---
Step 1
To make rice: place tomatoes, onions, garlic, and broth in blender. Blend until smooth.
Step 2
In non-stick saucepan place tomato mixture, rice and 1 teaspoon olive oil. Mix slightly. Cook over medium high heat until it simmers. Cover, and lower heat. Cook for 25 to 30 minutes or until rice is soft. (Do not stir.) Turn heat off and leave covered until water has evaporated and rice is fully cooked.
Step 3
Lightly coat bottom of a large non-stick pan with olive oil (about 2 teaspoons) and place over medium low heat.
Step 4
Once hot, crack the eggs into the skillet leaving room between each to cook separately. Cook until the egg whites are set but the yolk is runny.
Step 5
Warm tortillas for 10 to 15 seconds on each side on an ungreased pan
Step 6
To assemble tacos, place a layer of rice on each tortilla and top with an egg, avocado slices and black pepper. Repeat with remaining tortillas.
---