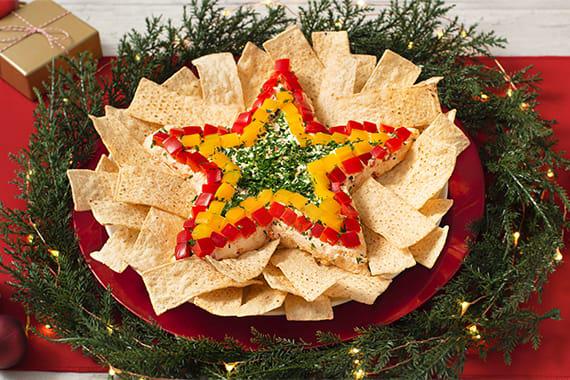 Easy Pimento Cheese Dip Star
Creamy. Cheesy. Spicy. This easy Pimento Cheese Dip recipe brings a beloved Southern staple to your table. Loaded with cheddar cheese, pimento peppers and cayenne, it's a festively decorated holiday appetizer, delicious party food, or anytime snack. Could this be the cheesiest dip ever? You'll have to try it to find out.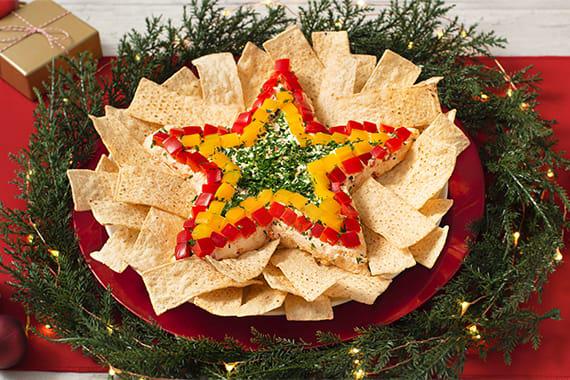 Featured Product
---
Ingredients
---
1
bag of Mission Strips Tortilla Chips
8
oz plain brick-style cream cheese, at room temperature
1 ½
cups shredded Cheddar cheese
⅓
cup minced pimento peppers, patted dry
¼
tsp each salt and pepper
⅓
cup coarsely chopped fresh parsley
2
tbsp diced red bell peppers
2
tbsp diced yellow bell peppers
Instructions
---
Step 1
Using electric mixer, beat cream cheese until smooth. Beat in Cheddar, pimento peppers, garlic powder, cayenne pepper, onion powder, salt and pepper until well combined.
Step 2
Transfer mixture to sheet of plastic wrap; shape into a ball and flatten into 5-inch disk, then use plastic wrap to shape into 5-point star (if mixture is too soft, refrigerate until firm enough to shape with wet hands). Transfer to serving platter.
Step 3
Top with parsley; decorate edges of star with diced peppers.
Step 4
Cover and refrigerate for 1 to 2 hours or until firm. Serve with tortilla chips.
Tip
Substitute chives for parsley if desired.
---