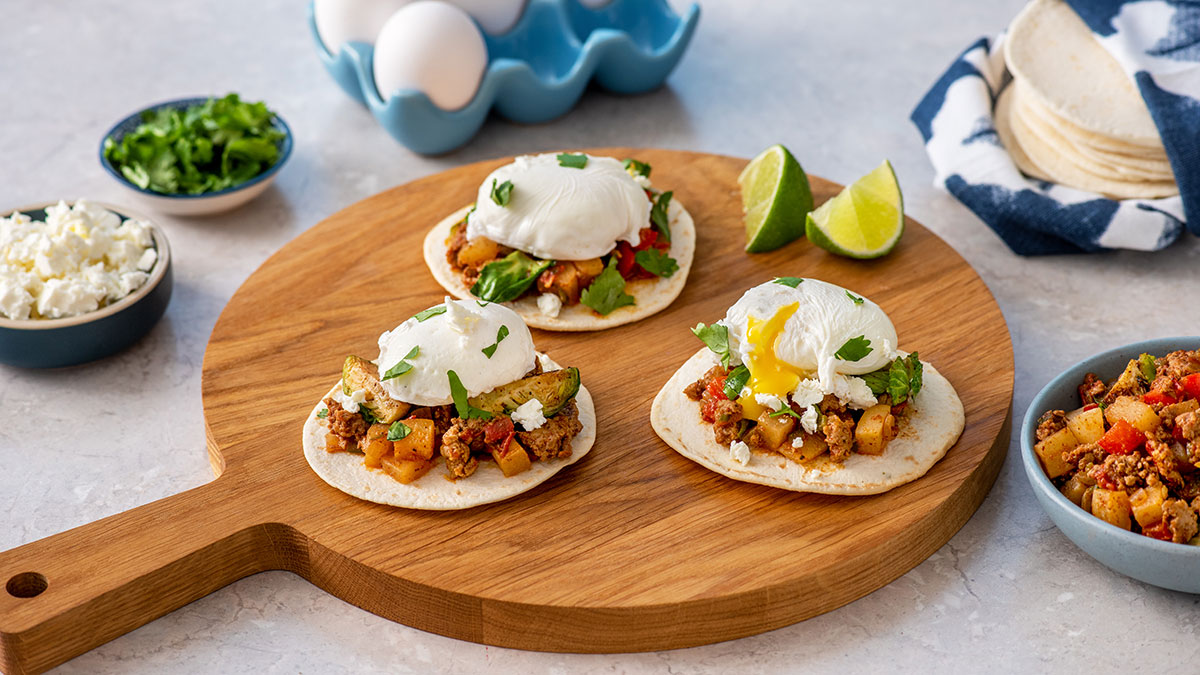 Harvest Breakfast Tostada
Loaded with harvest veggies and sautéed ground turkey, this satisfying poached egg–topped Tex-Mex tostada tastes as good as it looks.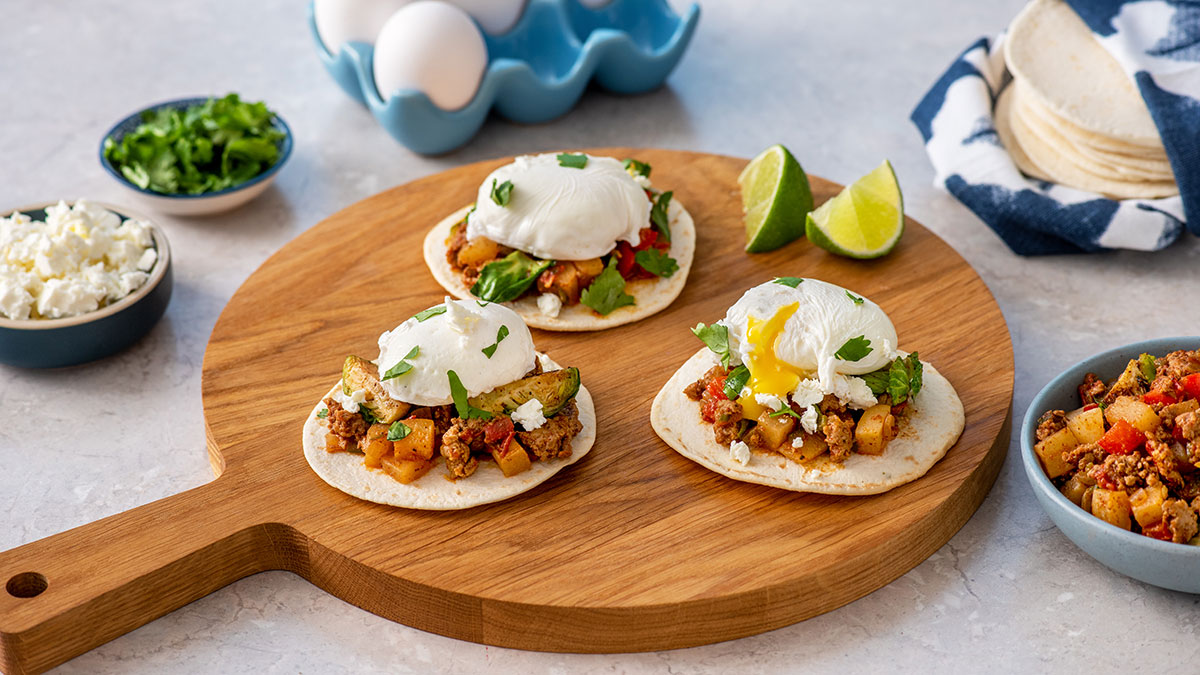 Featured Product
---
Ingredients
---
2
tbsp olive oil, divided
1
jalapeño pepper, seeded and diced
2
cups quartered Brussels sprouts
8
Mission® Zero Net Carbs Original
1/2
cup finely crumbled feta
2
tbsp torn cilantro leaves
Lime wedges, for serving
Instructions
---
Step 1: Preheat Oven
Step 2: Cook Tostada Topping
In large skillet set over medium-high heat, add 4 tsp oil. Add turkey, salt and pepper; cook, stirring and breaking up turkey, for 3 to 5 minutes or until just starting to brown. Add garlic, jalapeño, red pepper, Brussels sprouts, tomatoes, turnip, onion, chili powder, cumin, paprika and oregano. Cook, stirring occasionally, for 2 to 3 minutes or until vegetables are softened and fragrant. Stir in broth. Cover and cook, stirring occasionally, for 6 to 8 minutes or until turkey is cooked through, vegetables are tender and sauce has thickened.
Step 3: Prepare Tortillas
Meanwhile, brush both sides of tortillas with remaining oil. Arrange tortillas on baking sheets and bake, flipping halfway, for 15 to 20 minutes or until crispy.
Step 4: Assemble Tostadas
Top each tortilla evenly with turkey mixture and a poached egg. Sprinkle evenly with feta and cilantro. Serve with lime wedges.
Tips: Serve with hot sauce, guacamole and salsa if desired.
To poach eggs, fill a large saucepan with enough water to reach 3 inches up sides of saucepan; stir in 2 tbsp white vinegar and bring to a simmer over medium heat. Vigorously stir water to create a vortex. Crack 1 egg into small dish; holding dish just above simmering water, slip egg into water. Quickly repeat with remaining eggs. Reduce heat to medium-low. Cook eggs in barely simmering water for 3 to 4 minutes or until whites are set and yolks are cooked as desired. Using slotted spoon, transfer eggs to paper towel–lined plate to drain.
Alternatively, substitute poached eggs with fried eggs.
---