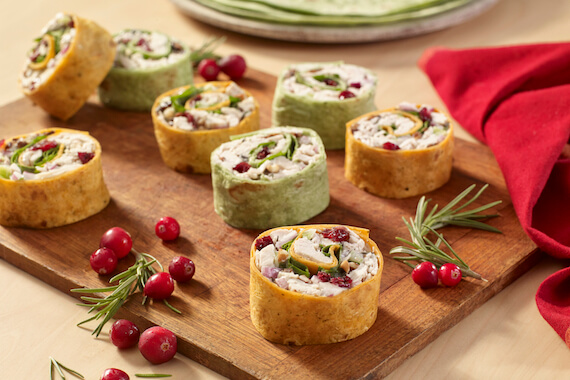 Featured Product
---
Ingredients
---
2
Mission Sun Dried Tomato Wraps
2
Mission Garden Spinach Wraps
2
boneless, skinless Chicken breasts
½
cup Pecans, toasted and finely chopped
1
Celery stalk, finely diced
½
Red onion, finely diced
1 ½
tsp minced fresh Rosemary
1 ½
packed cups Baby spinach
Instructions
---
Step 1
In a medium saucepan, combine chicken, sugar, 1 teaspoon salt and just enough water to cover. Bring to a boil. Reduce heat to simmer gently, covered, until chicken is cooked through (the internal temperature should reach 160℉), 20-25 minutes. Let cool slightly and use two forks shred chicken.
Step 2
In a medium bowl combine chicken with cranberries, pecans, mayonnaise, celery, onion, rosemary, ¼ teaspoon salt and pepper.
Step 3
Lay out wraps on a work surface and spread each with a thin layer of chicken salad, leaving a ½" border all the way around. Top with a thin layer of spinach. Roll up tightly. Cover, and refrigerate at least 30 minutes until firm.
Step 4
Just before serving, cut wraps into ½" thick pinwheels. Place on large platter garnished with fresh rosemary sprigs.
---