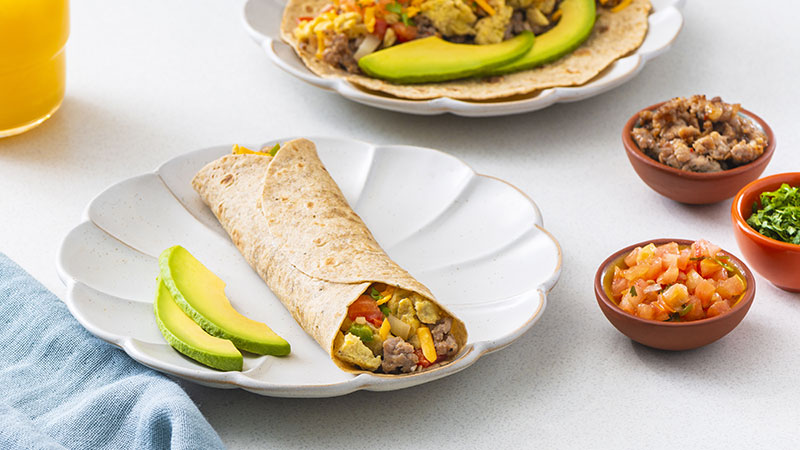 Tex-Mex Breakfast Wraps
With crowd-pleasing Tex-Mex flavors, these easy wraps make a perfect grab-and-go breakfast for busy mornings.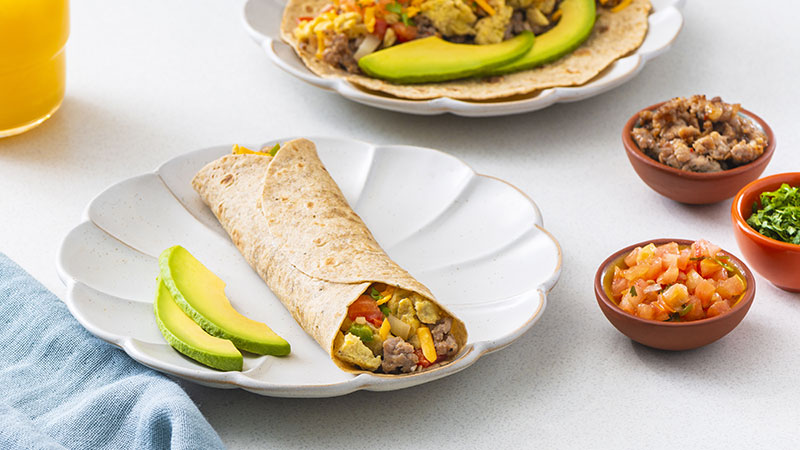 Featured Product
---
Ingredients
---
6
Mission® Protein Garlic Herb Tortillas Wraps
8
oz fresh chorizo sausage, casings removed
1/2
jalapeño pepper, seeded and diced
2
tbsp finely chopped fresh cilantro
1
cup shredded Cheddar cheese
1
avocado, peeled, halved, pitted and diced
Instructions
---
Step 1: Cook chorizo
In large skillet set over medium-high heat, cook chorizo, stirring occasionally, for 8 to 10 minutes or until browned and cooked through.
Step 2: Prepare eggs mixture
Meanwhile, in large bowl, whisk together eggs, 1 tbsp water, salt and pepper.
Step 3: Cook vegetables
In large nonstick skillet set over medium heat, melt butter. Add jalapeño, onion, tomato and cilantro; cook, stirring occasionally, for 4 to 5 minutes or until softened. Pour eggs mixture into skillet. Cook, stirring frequently, for 5 to 8 minutes or until eggs are set and soft curds have formed.
Step 4: Warm tortillas
Warm tortillas according to package directions.
Step 5: Assemble wraps
Spoon scrambled eggs mixture down center of each tortilla. Top with chorizo, Cheddar, avocado and pico de gallo. Fold in sides, then fold bottom of wraps over filling and roll up tightly.
Tip
Substitute chorizo with your favorite breakfast sausage if preferred.
---