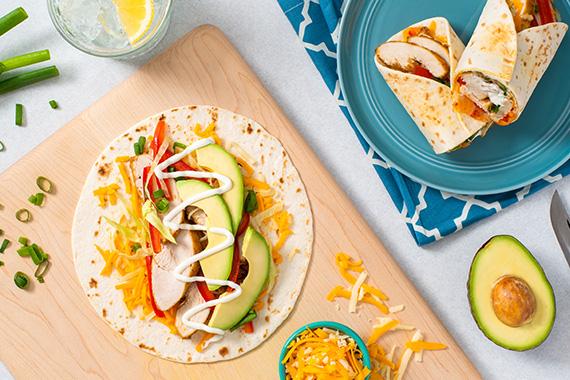 Air Fryer Chicken Fajita Wraps
These low carb air fryer chicken fajita wraps are perfect for an easy, yet delicious keto-friendly meal. Loaded with delicious fajita flavors and extra juicy chicken thanks to the magic of your air fryer. Make sure to give this recipe a try for lunch or dinner.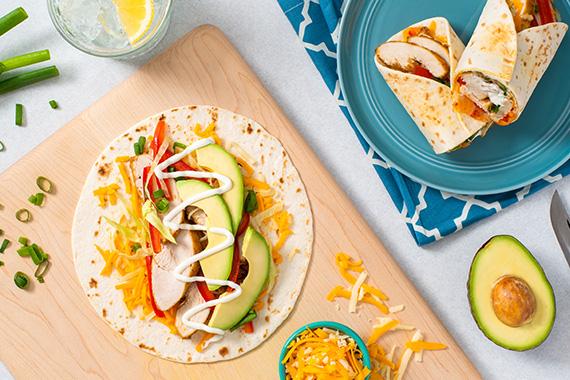 Featured Product
---
Ingredients
---
4
Mission Carb Balance Soft Taco Flour Tortillas
2
tbsp olive oil, divided
½
red bell pepper, thinly sliced
¼
cup sliced green onions
½
cup shredded Tex-Mex cheese
1
cup shredded iceberg lettuce
½
avocado, pitted and sliced
Instructions
---
Step 1: Prep Air Fryer and Chicken Fajita
Preheat air fryer to 400°F. Arrange chicken breasts in cooking basket sheet; drizzle with 1 tbsp olive oil. Season with fajita seasoning, salt and pepper.
Step 2: Roast Chicken Fajita in Air Fryer
Roast seasoned chicken in air fryer for 18 to 22 minutes or until chicken is golden and digital thermometer registers 165°F when inserted into thickest part of breast. Let cool slightly before slicing thinly into strips.
Step 3: Cook Vegetables
Meanwhile, heat remaining oil in large skillet set over medium heat; cook bell pepper and green onions for 3 to 5 minutes or until softened.
Step 4: Layer onto Tortilla
Sprinkle half of the cheese evenly over tortillas. Top with sliced chicken, bell pepper mixture, lettuce, avocado and tomato. Drizzle with sour cream and sprinkle with remaining cheese.
Step 5: Create Wraps Then Toast
Fold in edges and roll up to enclose fillings. In two batches, add assembled chicken fajita wraps to clean basket of air fryer preheated to 400°F. Toast for 3 to 4 minutes or until wraps are golden and toasted. Repeat with remaining wraps.
Tip
Serve your chicken fajita wraps with keto-friendly salsa or guacamole for dipping.
---