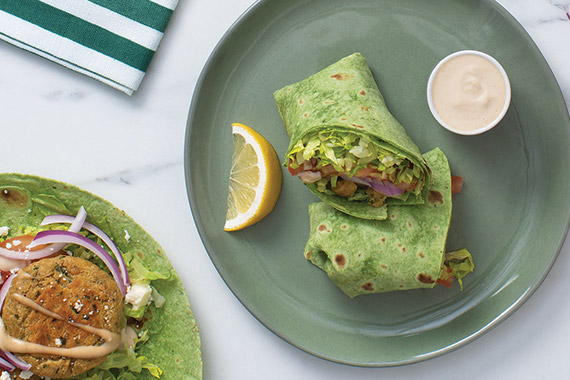 Baked Falafel Wraps
Calling all falafel sandwich lovers! Bring your street food obsession home with this surprisingly easy to make homemade falafel wrap recipe. Filled with baked, crispy golden brown patties and drizzled with tahini, you'll swear your kitchen was a bazaar. Replace the pita with a Mission® Gluten Free Spinach Herb for an even healthier dish.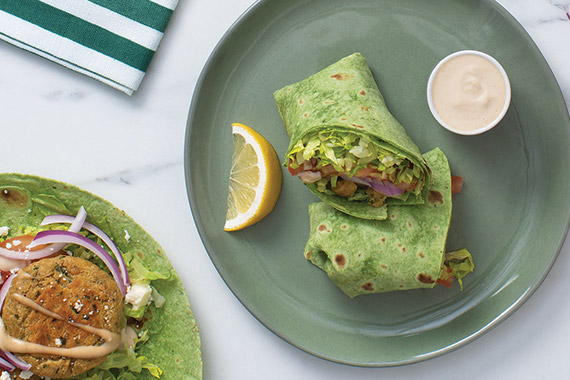 Featured Product
---
Ingredients
---
6
Mission Gluten Free Spinach Herb Tortilla Wraps, warmed
1
can (15 oz.) Chickpeas, drained
¼
cup Red or yellow onion, diced
3
tbsp. Gluten-free all-purpose flour
3
tbsp. Extra virgin olive oil, divided
2
cups Romaine lettuce, shredded
2
Medium ripe tomatoes, thinly sliced
¾
cup Feta cheese crumbles
½
Red onion, thinly sliced
Instructions
---
Step 1: Prepare Baking Sheet
Preheat oven to 375°F. Line a rimmed baking sheet with parchment and brush with 1 tablespoon oil.
Step 2: Make Falafel
In a food processor, combine chickpeas, parsley, onion, flour, 1 tablespoon oil, garlic, 1 teaspoon salt, cumin, and coriander. Pulse until finely ground and combined. Use a ¼ cup measure to portion mixture and shape into patties. Transfer to prepared baking pan and brush tops of falafel with remaining tablespoon oil.
Step 3: Bake Falafel
Bake falafel for 12 minutes, carefully flip and bake for 12 minutes more or until golden brown.
Step 4: Mix Tahini Sauce
While falafel bakes, whisk to combine tahini, water, lemon juice and ¼ teaspoon salt in a medium bowl.
Step 5: Build Falafel Wrap
Lay out warm tortillas on a clean work surface and top with falafel, romaine, tomatoes, onion and feta. Drizzle with tahini sauce, fold in one end then roll to create falafel wrap.
---