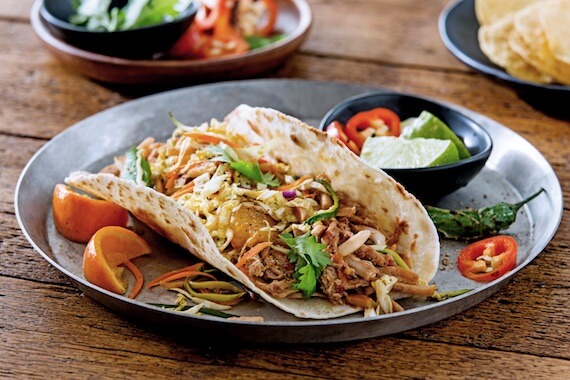 Featured Product
---
Ingredients
---
4
Mission Gluten Free Soft Taco Flour Tortillas
2
Tbsp chili-garlic pepper sauce
1
Tbsp ginger, fresh, chopped
2
tsp Chinese five-spice powder
2
cups Asian slaw, prepared
Instructions
---
Step 1
In a crock pot, combine tamari sauce, orange juice, chili-garlic pepper sauce, ginger, five-spice powder, and beef stock. Mix well to combine.
Step 2
In a sauté pan, over medium-high heat, sear all the sides of the pork shoulder to caramelize the outside. Place seared shoulder in crock pot and cook on high for 5-6 hours, or low for 8-9 hours, or until fork tender.
Step 3
Remove tender pork shoulder from the crock pot and allow to rest for 15 minutes on a plate. Reserve ½ cup liquid from crock-pot. Using a fork, shred the pork into desired sized pieces. Pour reserved liquid over shredded pork. Hold warm for assembly.
Step 4
To assemble: Warm the tortillas by heating in a sauté pan over medium-low heat, or place into a storage bag with a damp paper towel and microwave for 20-30 seconds. Place ½ cup prepared Asian slaw into each warmed tortilla. Top the slaw with ½ cup pulled pork, and squeeze one orange wedge over the meat. Repeat for each tortilla shell. Serve.
---