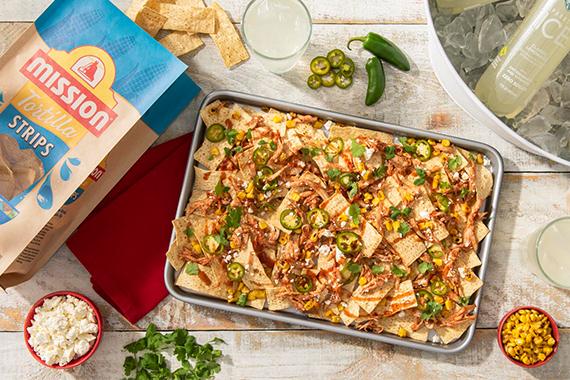 BBQ Nacho Strips Recipe
Throw on some shades and put on your flip-flops. It's time for backyard fun with BBQ chicken nachos on the grill. Shred the chicken. Melt the cheese. Smother on your favorite BBQ sauce. And pile over Mission Tortilla Strips – the perfect chip for nacho-ing. For the full Summer grilling experience, these nacho bites are best enjoyed with friends, warm weather, and cold, crisp Sparkling Ice.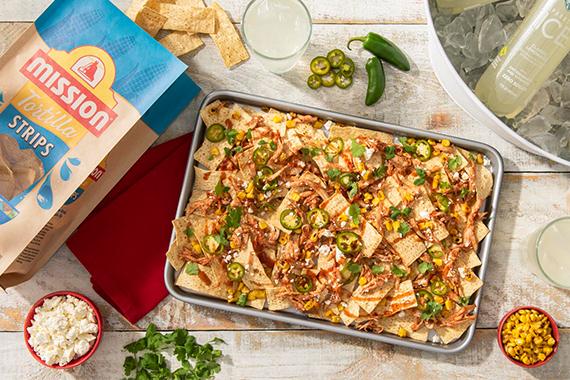 Featured Product
---
Ingredients
---
1
bag Mission Strips Tortilla Chips
2
cups shredded rotisserie chicken
¾
cup barbecue sauce, divided
⅓
cup pickled jalapeño pepper slices, diced
½
cup crumbled cotija cheese
2
tbsp finely chopped cilantro
Instructions
---
Step 1
Preheat grill to high; turn off burners in center of grill. Grease grates well.
Step 2
Arrange Mission Strips Tortilla Chips on perforated sheet pan. Remove corn kernels from cob (you should have about 1 cup).
Step 3
In bowl, toss chicken with 1/2 cup barbecue sauce; spoon evenly over chips. Top evenly with corn kernels, pickled jalapeños and cotija cheese. Drizzle with remaining barbecue sauce.
Step 4
Transfer sheet pan on grill; cook, covered, for 8 to 10 minutes or until warmed through and lightly browned.
Step 5
Garnish with cilantro. Serve with cold Sparkling Ice.
Tip
Cotija is a hard Mexican cheese that's salty and crumbly in texture, which can be found in the cheese section of most supermarkets, but can be replaced with feta cheese if desired.
---