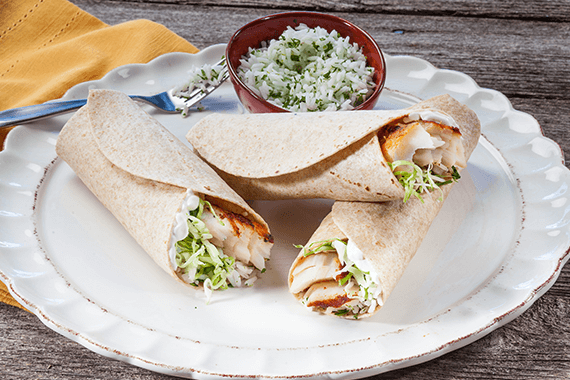 Blackened Fish Burritos
Our Blackened Fish Burritos recipe is carefully crafted to make your next meal extraordinary. Sure to be your new favorite way to eat blackened fish. Enjoy a kick of cajun spices and cilantro lime rice in a high protein, high fiber burrito made with cod (or your favorite white fish) and our whole wheat tortillas.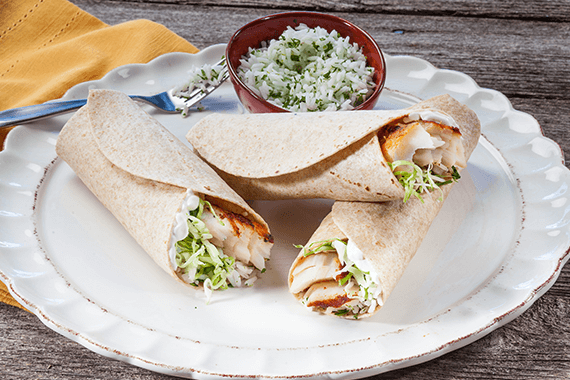 Featured Product
---
Ingredients
---
10
Mission Soft Taco Whole Wheat Tortillas
1
lb. White fish, such as cod
1
cup Long-grain white rice
2
cups Finely shredded green cabbage
Instructions
---
Step 1: Cook Rice
In a medium saucepan combine rice, ½ tsp. salt, and 1¾ cups water. Bring to a boil. Reduce heat and cover. Simmer gently until water is absorbed and rice is tender, about 15 minutes.
Step 2: Mix Cajun Seasoning
While rice cooks, in a small bowl mix together paprika, garlic powder, onion powder, thyme, oregano, black pepper, cayenne pepper, and ½ tsp. salt. Rub mixture on fish.
Step 3: Grill Fish
In a large, heavy skillet heat oil over medium-high. Add fish and cook, turning once, until blackened on both sides and cooked through, 3-5 minutes per side depending on thickness of fish. Transfer to a plate.
Step 4: Make Cilantro Lime Rice
Stir cilantro and lime juice into rice.
Step 5: Stir Yogurt Sauce
In a medium bowl stir together yogurt and enough water to reach a smooth, pourable consistency.
Step 6: Heat Tortillas
In a large, dry skillet over medium, heat tortillas 1 at a time, flipping once, until heated through and pliable. Transfer to a plate and warm remaining tortillas, stacking them on top of each other.
Step 7: Build Blackened Fish Burritos
Lay tortillas flat on a work surface. Divide rice between tortillas. Top with fish, drizzle with yogurt sauce, and sprinkle with cabbage. Fold bottom of tortilla over filling, fold in sides, and roll up. Place seam side down on work surface and repeat with remaining tortillas and filling. Serve blackened fish burritos warm.
---