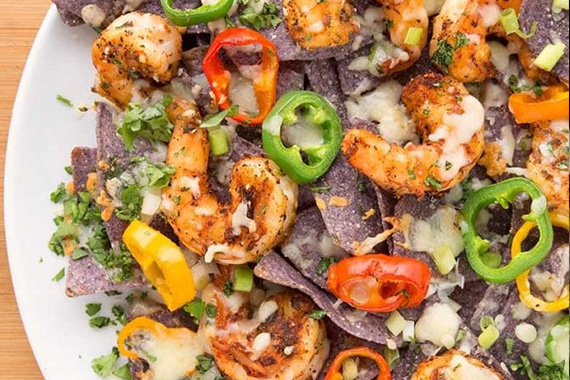 Featured Product
---
Ingredients
---
4
cups of Organics® Blue Corn Tortilla Chips
½
lb shrimp, peeled and deveined with the tails removed
1
tbsp blackened seasoning
1
cup cheddar or Monterrey Jack, shredded
1
jalapeño pepper, thinly sliced
2
tbsp chopped fresh cilantro
1
tsp cilantro, finely minced
1
lime, fresh squeezed juice
1
tsp cilantro, finely chopped
1
lime, fresh squeezed juice
jalapeños or hot sauce optional
Instructions
---
Step 1
Preheat the oven to 400 while you gather your ingredients.
Step 2
Season shrimp with blackening spices using as much or as little as you prefer.
Step 3
Heat up a cooking pan over medium-high heat. Add shrimp and quickly sear them on both sides until just done. Take shrimp out of the pan and set aside. *You can also bake the shrimp in the oven or grill them.
Step 4
Place the tortilla chips onto a baking sheet covered with parchment paper. The paper will help you transfer the completed nachos to a serving dish.
Step 5
Place the shrimp onto the chips, then add the sweet peppers.
Step 6
Add the shredded cheddar to the nachos, evenly distributing the cheese. *use more cheese than you think you need. As it melts it won't look to be as much as you imagined.
Step 7
Sprinkle cilantro over the cheese, then add sliced jalapeños if you want a little extra heat.
Step 8
Place sheet into preheated oven and bake for 7-10 minutes or until the cheese is nicely melted.
Step 9
To make the salsa, in a mixing bowl add diced tomatoes, onion, cilantro and lime juice. Season with sea salt to taste. * If you like heat feel free to add some diced jalapeño or hot sauce.
Step 10
To make the guacamole: mash the avocado with a potato masher or fork until you have the desired texture.
Step 11
To complete the guacamole: add the diced tomato, cilantro, and lime juice. Season with sea salt to taste. *If you like heat feel free to add some diced jalapeño
---