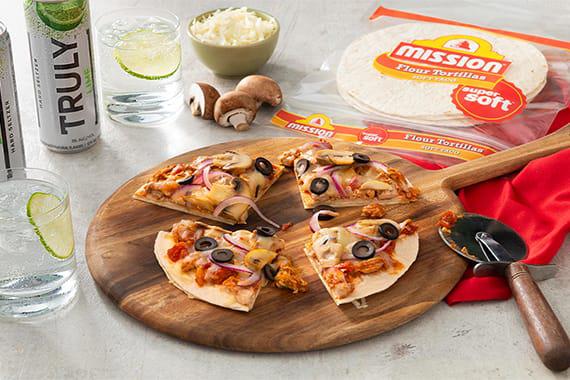 Braised Chicken Tortilla Pizza
Gear up your game day grub. This braised chicken tortilla pizza recipe is topped full of juicy, tender braised chicken, fresh veggies, a crispy Mission® Soft Taco Flour Tortilla crust, and a cheer-worthy sauce. What it makes it truly tasty? The secret ingredient: Truly® Lime Hard Seltzer.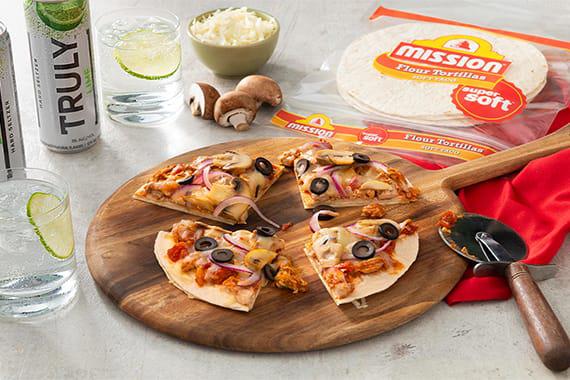 Featured Product
---
Ingredients
---
8
Mission Soft Taco Flour Tortillas
½
cup Truly® Lime Hard Seltzer
1
can (15 oz) diced tomatoes
1
lb skinless, boneless chicken thighs
¼
cup pitted halved black olives
Instructions
---
Step 1
Heat 2 tbsp oil in large high-sided skillet set over medium heat; cook onion, garlic, chili powder, cumin and oregano for 3 to 5 minutes or until slightly softened. Stir in Truly Lime Hard Seltzer; bring to boil. Cook for 2 minutes.
Step 2
Stir in diced tomatoes and tomato paste; bring to boil. Add chicken, salt and pepper. Reduce heat to medium-low; cover and cook for 40 to 50 minutes or until chicken is very tender and sauce is thickened.
Step 3
Remove cooked chicken, shred chicken with 2 forks and stir back into sauce. Let cool slightly.
Step 4
Preheat oven to 425°F. Arrange 4 tortillas on parchment paper–lined baking sheet. Sprinkle each evenly with 1/4 cup mozzarella cheese; cap with another tortilla. Top with sauce and chicken, then sprinkle with remaining cheese. Top with mushrooms, red onion and black olives; drizzle with remaining oil.
Step 5
Bake for 15 to 20 minutes or until cheese melts and bubbles; sprinkle with basil before serving. Cut each pizza into 4 slices.
Tip
Substitute chicken breasts for chicken thighs, if preferred.
---