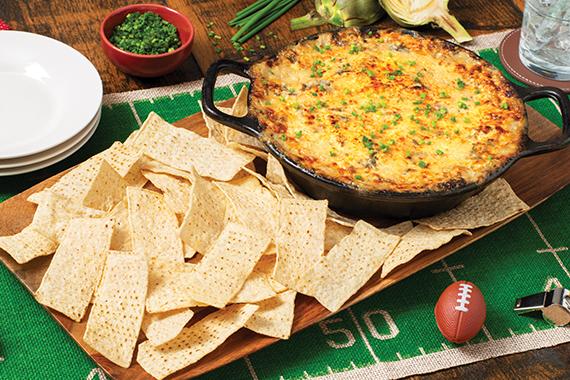 Cheesy Artichoke Dip
Loaded with cream cheese, asiago, and spinach- get game-day ready with this deliciously decadent, cheesy artichoke dip. It's sure to be a favorite!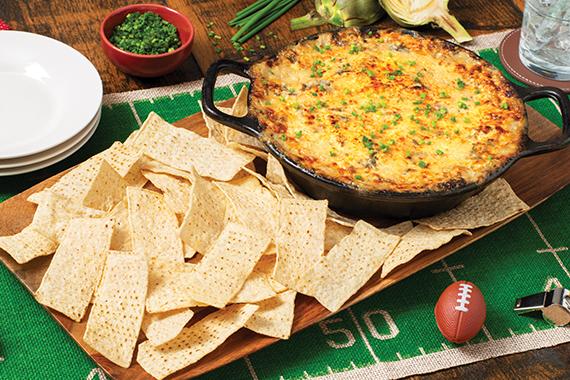 Featured Product
---
Ingredients
---
1
bag Mission® Strips Tortilla Chips
2 ½
cups grated Asiago cheese, divide
1
can (14 oz) artichoke hearts, drained and coarsely chopped
1
cup cream cheese, softened
2
tbsp chopped fresh chives, divided
¼
cup grated Parmesan cheese
Instructions
---
Step 1: Cook Spinach
Preheat oven 400°F. Heat oil in large skillet set over medium-high heat; cook spinach and garlic for 2 to 3 minutes or until wilted. Let cool; chop coarsely.
Step 2: Mix Dip
In large bowl, combine spinach and garlic, 2 cups Asiago cheese, artichokes, mayonnaise, cream cheese, sour cream, 1 tbsp chives, lemon juice, salt and pepper.
Step 3: Bake Dip
Transfer to greased 9- to 10-inch round ovenproof serving dish. Sprinkle with remaining Parmesan and Asiago cheese; bake for 20 to 25 minutes or until top is bubbly and golden.
Step 4: Garnish and Serve
Sprinkle baked artichoke dip with remaining chives. Serve with Mission® Strips Tortilla Chips.
Tip:
For added kick, season your cheesy artichoke dip to preference with your favorite hot sauce or red chili flakes.
---