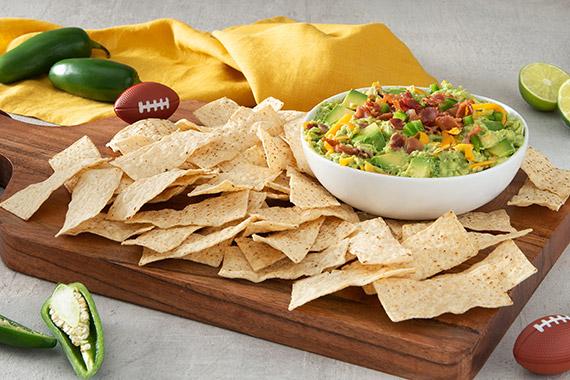 Cheesy Bacon Ranch Guacamole
Layered with lots of crowd-pleasing flavors, this yummy cheesy bacon ranch guacamole served with Mission Strips Tortilla Chips makes an irresistible snack.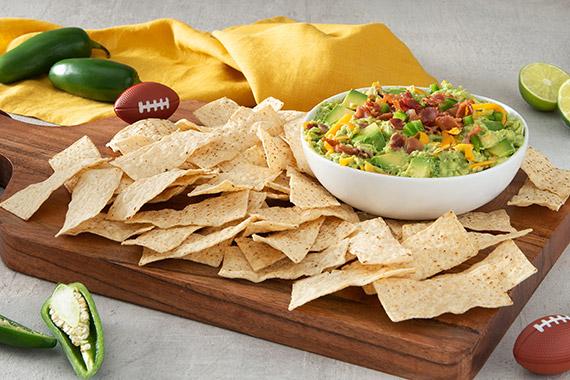 Featured Product
---
Ingredients
---
1
bag Mission Strips Tortilla Chips
4
ripe avocados, halved, pitted and peeled
¾
cup ranch dressing, divided
¾
cup shredded Cheddar cheese, divided
2
green onions, thinly sliced
1
jalapeño pepper, seeded and diced
Instructions
---
Step 1: Cook Bacon
Cook bacon in large skillet set over medium-high heat for 6 to 8 minutes or until crispy. Remove from pan with slotted spoon; transfer to paper towel–lined plate and let cool to room temperature.
Step 2: Made Guacamole
In a mixing bowl mash together avocados, 1/2 cup ranch dressing, lime juice and salt to make your guacamole. Fold in 1/2 cup cheese, half of the bacon, green onions and jalapeño.
Step 3: Add Toppings
Transfer to serving bowl. Top with remaining cheese, ranch dressing and bacon. Serve with Mission® tortilla chips.
---