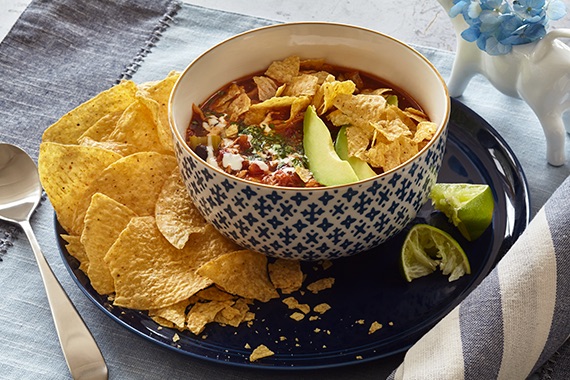 Chicken Tortilla Soup
The perfect recipe for cool weather and busy weeknights. This healthy chicken tortilla soup is a simple dish to make with a lot going on inside. Just look at all those amazing toppings! A slightly spicy broth, tender rotisserie chicken, creamy avocados, black beans and — the pièce de résistance — irresistibly crispy tortilla chips. All your favorite Mexican flavors. All in one delicious soup.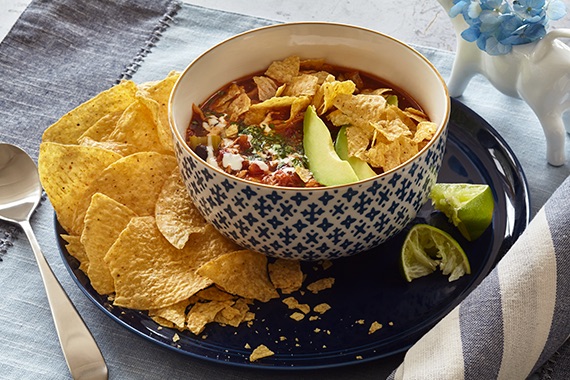 Featured Product
---
Ingredients
---
3
cups coarsely crushed Mission Thin & Crispy Tortilla Chips
2
chipotle chiles in adobo sauce, chopped
1
can (15 oz) black beans, drained, rinsed
1
can (14.5 oz) can diced tomatoes
½
cup fresh lime juice (from 2 limes)
2
cups shredded rotisserie chicken
½
cup coarsely chopped cilantro leaves
Instructions
---
Step 1: Cook Veggies
In large saucepan heat oil. Add onion, chiles, garlic, carrots and celery. Cook 4 minutes or until vegetables are crisp-tender.
Step 2: Warm Soup Broth
Add beans, tomatoes and broth; simmer 15 minutes.
Step 3: Stir in Ingredients
Stir in remaining ingredients.
Step 4: Add Toppings
Top warm soup with cilantro, lime juice, sour cream, cheese, avocado, and tortilla chips, as desired.
---