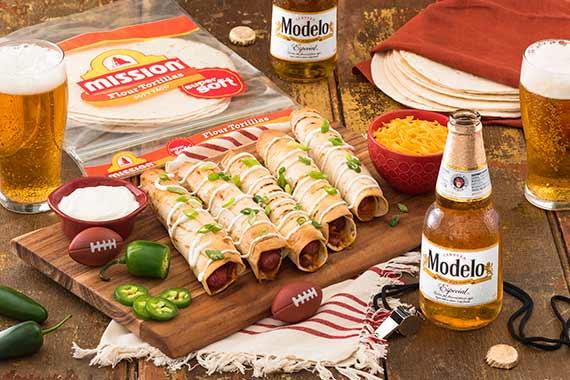 Chili Cheese Hot Dog Taquitos
Chili cheese dogs meet taquitos. No one will be able to resist the delicious result. Score the best game day snacks with this chili cheese hot dog taquitos recipe. Use store-bought or homemade chili. And serve up with a crisp cold, refreshing Modelo Especial.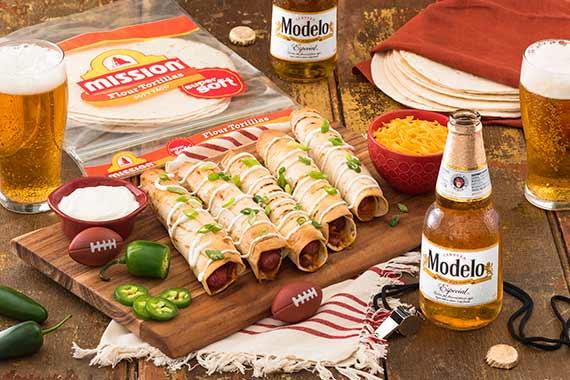 Featured Product
---
Ingredients
---
8
Mission Soft Taco Flour Tortillas
1
cup shredded Cheddar cheese
⅓
cup minced pickled jalapeño peppers
Instructions
---
Step 1: Prepare Baking Sheet
Preheat oven to 400°F. Line rimmed baking sheet with parchment paper.
Step 2: Warm Up Soft Tortillas
Heat tortillas in pan until warm and lightly marked, about 30 seconds per side. Mission Super Soft Flour Tortillas work best.
Step 3: Make Chilli Cheese Hot Dogs
Place hot dog in center of each tortilla. Divide chili, cheese and jalapenos evenly over hot dogs.
Step 4: Roll Up Hot Dogs
Roll up tortillas, securing with toothpicks if necessary. Place rolled hot dogs on prepared baking sheet; brush with oil.
Step 5: Bake Taquitos
Bake for 18 to 20 minutes or until golden brown. Drizzle your finished chili cheese hot dog taquitos with sour cream; garnish with green onions before serving.
Tip
To make a quick homemade chili, brown 1 lb ground beef and 1 chopped onion in heavy-bottom pot over medium-high heat; drain excess liquid. Add 1 (28 oz) can diced tomatoes, 1 (15 oz) can drained kidney beans, 2 1/2 tbsp chili powder, 2 tsp cumin and 1 tsp salt. Bring to boil; reduce heat and simmer for 20 to 25 minutes or until thickened.
---