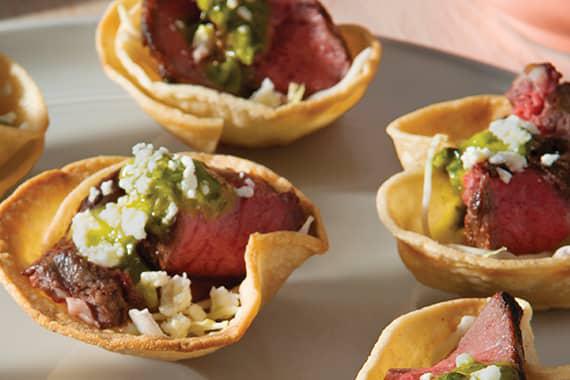 Chimichurri Steak Mini Taco Bowls
Filled with grilled steak and drizzled with chimichurri sauce, this bite-sized mini taco bowl recipe proves the tastiest things come in small tortilla packages. Perfect for appetizers, small meals, snacks, Taco Tuesdays, Cinco de Mayo, and everything in between, this recipe is an easy Tex Mex finger food using crispy baked Mission® Street Tacos White Corn Tortillas.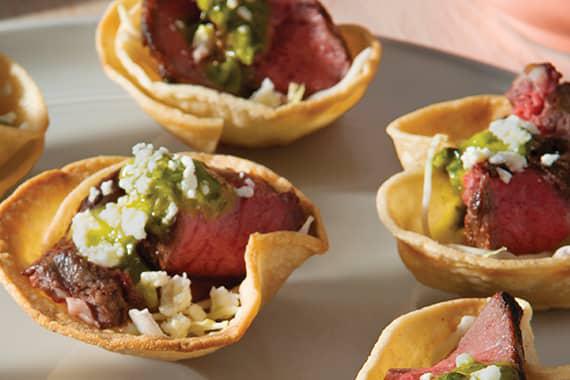 Featured Product
---
Ingredients
---
16
Mission Street Tacos White Corn Tortillas
----------------------------------------
1
Strip loin steaks (8 to 10 oz each)
1
cup Green cabbage, shredded
⅓
cup Cotija cheese, crumbled
----------------------------------------
½
cup Fresh cilantro, chopped
¼
cup Fresh parsley, chopped
1
Small jalapeño pepper, halved and seeded
¼
tsp. Salt, pepper and dried oregano
Instructions
---
Step 1 - Taco Bowls
Preheat oven to 400˚F. Warm tortillas in oven for 2 to 3 minutes or just until soft and malleable. Brush tortillas lightly with oil; nestle each tortilla into muffin cup. Bake for 12 to 15 minutes or until tortilla takes on bowl shape; let cool completely.
Step 2 - Chimichurri Sauce
In food processor, pulse cilantro, parsley, olive oil, jalapeño, lime juice, garlic, salt, pepper and oregano until sauce-like consistency. Let stand for 10 minutes.
Step 3 - Steak Taco Bowls
Preheat grill to medium-high heat; grease grate well. Season steaks with salt and pepper. Grill for 4 to 5 minutes per side for medium-rare or until cooked as desired. Let stand for 10 minutes before slicing thinly.
Step 4
Assemble taco bowls with shredded cabbage and steak slices. Drizzle with chimichurri sauce and sprinkle with Cotija cheese.
---