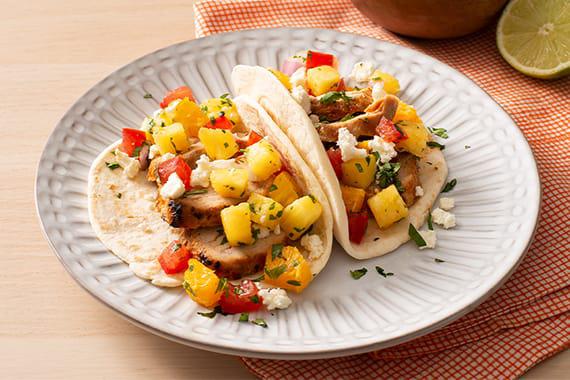 Citrus Pico Hawaiian Pork Tacos
Hawaiian-style meet Taco Tuesday. Citrus Pico Hawaiian Pork Tacos. Need we say more? There's pineapple. There's pork. There's citrus pico de gallo. There's Mission Street Sweet Hawaiian Flour Tortillas. Oh yeah, and there's the marinade. You won't believe how amazing this pork marinade is until you try it. All you need now is a lei and sombrero to complete the party.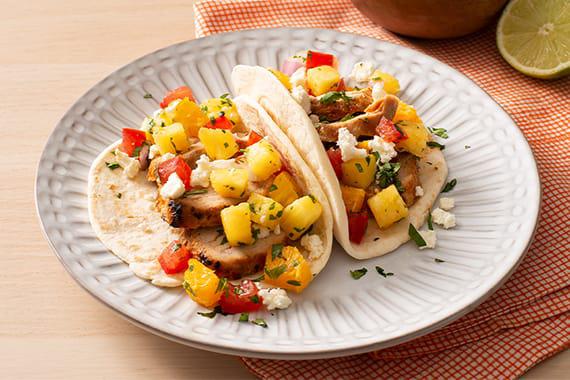 Featured Product
---
Ingredients
---
12
Mission Street Tacos Sweet Hawaiian Tortillas
1
tsp salt and pepper, divided
1
pork tenderloin, about 1 lb.
2
tbsp finely chopped fresh cilantro
1 ½
cup crumbled cotija cheese
Instructions
---
Step 1
Stir together pineapple juice, soy sauce, sesame oil, sriracha sauce, honey, ginger, garlic, 1/2 tsp salt and pepper. Pour marinade over pork tenderloin. Cover and marinate in refrigerator for at least 3 to 4 hours and up to overnight.
Step 2
Meanwhile, stir together pineapple, tomato, orange segments, red onion, cilantro, lime juice, grapefruit juice, brown sugar and remaining salt and pepper.
Step 3
Preheat grill to medium-high heat; grease grate well. Remove pork from marinade and shake off any excess. Grill, turning, pork tenderloin for 20 to 25 minutes or until internal temperature reaches 160°F. Let pork rest for 10 minutes then thinly slice.
Step 4
Meanwhile, warm tortillas according to package directions.
Step 5
Assemble sliced pork tenderloin and citrus pico in warm tortillas. Garnish crumbled cheese.
Tip
Garnish tacos also with avocado or sour cream.
---