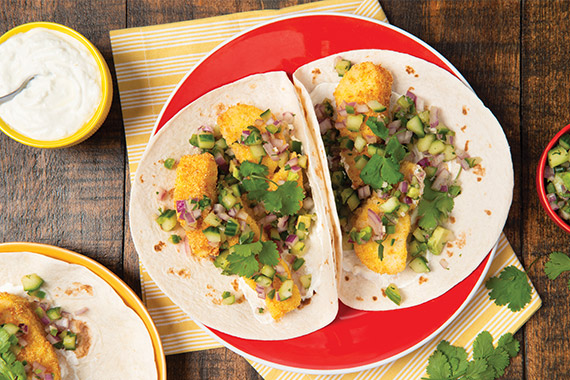 Featured Product
---
Ingredients
---
8
Mission Soft Taco Flour Tortillas
1
jalapeño pepper, seeded and diced
1
avocado, halved, pitted, peeled and diced
2
tbsp finely chopped fresh cilantro
2
tsp each salt and pepper
3
egg whites, lightly beaten
1
lb white-fleshed fish fillets, cut into 2-inch pieces
Instructions
---
Step 1
Cucumber Avocado Salsa: Stir together cucumber, onion, jalapeño, lime juice, garlic, salt and cumin. Stir in avocado and cilantro. Let stand for 10 minutes.
Step 2
Fish Tacos: In shallow bowl, stir together bread crumbs, cornmeal, chili powder, salt, pepper and cayenne. In separate bowl, place egg whites. Dip fish first in egg whites, then dredge in bread crumb mixture.
Step 3
Heat oil in skillet set over medium heat; cook fish, in batches, for 2 to 4 minutes per side or until lightly golden and fish is cooked through. Transfer to paper towel–lined plate.
Step 4
Meanwhile, warm tortillas according to package directions. Spread sour cream over warm tortillas, then top with fish and salsa. Garnish with cilantro.
---