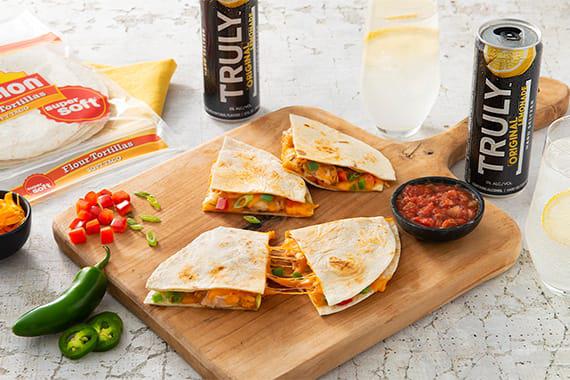 Crispy Lemonade-Battered Chicken Quesadillas
Serve up an irresistibly crunchy crowd-pleaser during your next game day gathering with crispy lemonade-battered chicken quesadillas. Spicy, cheesy and a little boozy. Go big on taste with a fun tangy twist when you team up Truly® Lemonade Hard Seltzer and Mission® Soft Taco Flour Tortillas.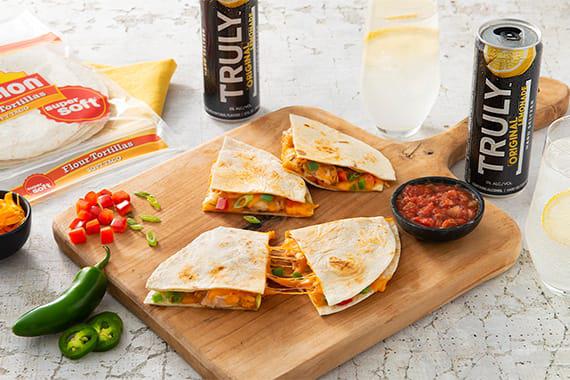 Featured Product
---
Ingredients
---
8
Mission Soft Taco Flour Tortillas
1
cup Truly® Lemonade Hard Seltzer
2
cups shredded Cheddar cheese, divided
½
cup diced red bell pepper
2
jalapeno peppers, seeded and diced
4
green onions, thinly sliced
2
tbsp olive oil, divided
1
cup tomato salsa, for serving
Instructions
---
Step 1
Whisk together flour, cornstarch, baking powder and chili powder. In separate bowl, whisk together Truly Lemonade Hard Seltzer and egg. Gradually whisk into flour mixture (do not overmix; batter will be slightly lumpy).
Step 2
Pour 3 inches of oil into large saucepan. Heat over medium heat until instant-read thermometer reaches 375°F.
Step 3
One at a time, dip chicken tenders into batter, then slowly add to hot oil. Cook, in batches, for 3 to 4 minutes or until crispy and chicken is cooked through. Transfer to paper towel–lined plate; sprinkle with salt. Chop into pieces.
Step 4
Sprinkle half of the Cheddar cheese evenly over tortillas, leaving 1/2-inch border. Scatter chopped chicken, red bell pepper, jalapeño and green onions over top; sprinkle with remaining Cheddar cheese. Cap with remaining tortillas to enclose filling.
Step 5
Heat 1 tbsp olive oil in large skillet set over medium heat; cook quesadillas, in batches, for 1 to 2 minutes per side or until golden and cheese is melted, adding remaining oil as needed. Cut quesadillas into wedges. Serve with salsa for dipping and enjoy!
Tip
Serve with other favorites too, like guacamole or sour cream!
---