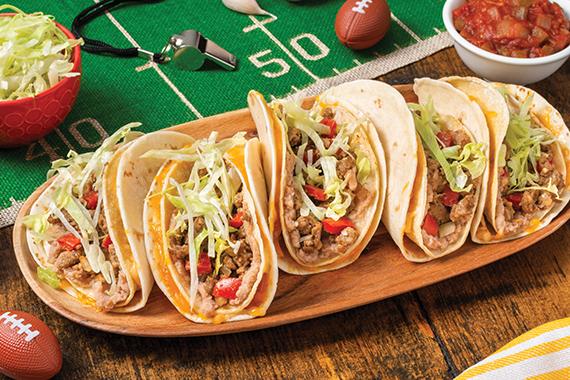 Double Decker Tacos
Crispy, cheesy, and definitely delicious, these loaded double decker tacos are a touchdown when it comes to game-day entertaining.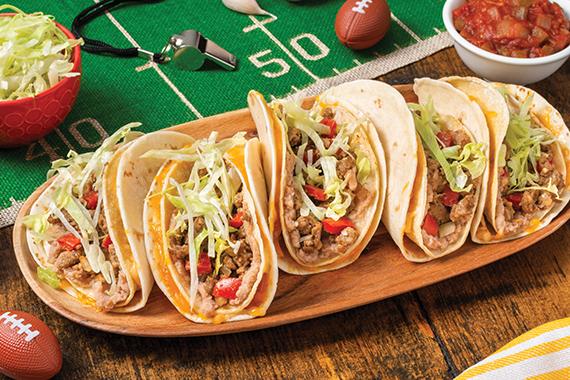 Featured Product
---
Ingredients
---
6
Mission® Super Soft® White Corn Tortillas
6
Mission® Super Soft® Flour Tortillas
1
cup shredded Monterey Jack cheese
1
cup shredded Cheddar cheese
1
jalapeño pepper, thinly sliced
Instructions
---
Step 1: Air Fry Taco Fillings
Preheat air fryer to 400°F. Heat oil in large skillet set over medium heat; cook onion, garlic and ground beef with taco seasoning for 5 to 8 minutes or until beef is slightly browned and onion is softened. Add red pepper; cook for 3 to 5 minutes or until tender.
Step 2: Make Tacos
Spread refried beans evenly over 6 Mission® Super Soft® White Corn Tortillas. Top with beef mixture and Monterey Jack cheese. Fold over to enclose filling, then arrange tacos standing up in basket of air fryer. Cook for 8 to 12 minutes or until tortillas are crispy.
Step 3: Combine Tacos
Arrange Mission® Super Soft® Flour Tortillas on baking sheet; sprinkle evenly with Cheddar cheese. Broil for 2 to 3 minutes or until cheese is melted. To create double decker tacos, wrap soft cheesy tortillas around crispy air fried beef tacos. Top with shredded lettuce and optional sliced jalapeño pepper.
Step 4: Serve Tacos
Serve with guacamole and salsa.
Tip:
For a vegetarian option, substitute a plant-based ground meat alternative for ground beef.
---