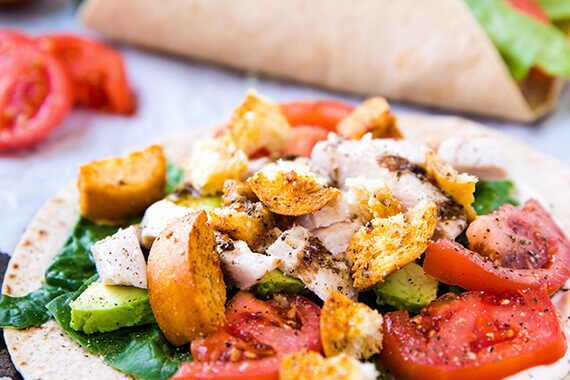 Easy Low Carb Italian Chicken Wraps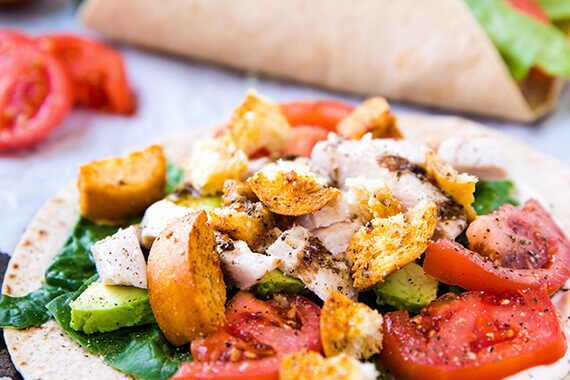 Featured Product
---
Ingredients
---
4
Carb Balance Soft Taco Whole Wheat Tortillas
½
cup real clean-eating Mayo
½
cup freshly grated Parmesan cheese
grilled and ready Chicken or prepared rotisserie chicken or leftover grilled chicken
⅓
cup light Italian dressing
Instructions
---
Step 1
Prepare the tortillas according to package directions and let cool slightly.
Step 2
Spread the mayo evenly among all the tortillas — about 2 tablespoons per tortilla.
Step 3
Top each tortilla with about 2 tablespoons Parmesan cheese.
Step 4
Place 1 large leaf of lettuce on each tortilla.
Step 5
Thinly slice the tomatoes and divide evenly among the 4 tortillas.
Step 6
Remove the pit and skin of the avocado, thinly slice, and add an even amount of slices to the tortillas.
Step 7
Top the tortillas evenly with the prepared chicken.
Step 8
Drizzle the Italian dressing evenly on each tortilla on top of the chicken. Add salt and pepper to taste.
Step 9
Slightly crush the croutons and divide them evenly among the 4 tortillas.
Step 10
Garnish with parsley or basil evenly among the tortillas.
Step 11
Roll them up tightly and enjoy.
---