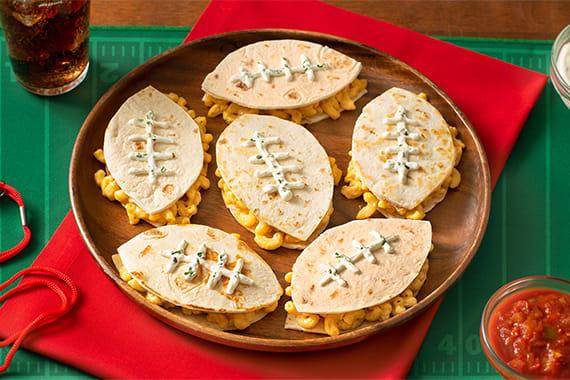 Football-Shaped Mac and Cheese Quesadillas
These football-shaped Mac and Cheese Quesadillas are the best (and tastiest) play you'll make all day. Super easy. Super cheesy. Cheer on your favorite team and enjoy your macaroni and cheese with no utensils required.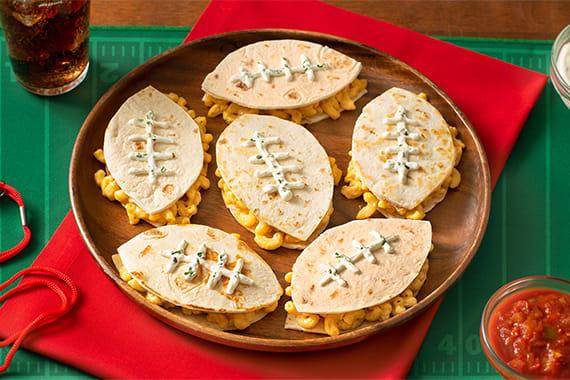 Featured Product
---
Ingredients
---
Mission Soft Taco Flour Tortillas
½
tsp Worcestershire sauce
½
tsp each salt and pepper
1
cup shredded Cheddar cheese, divided
2
tbsp finely chopped cilantro
Instructions
---
Step 1
Preheat oven to 200˚F. Cut tortillas into large football shapes. Discard trimmings. Cook pasta according to package directions; drain well.
Step 2
Meanwhile, melt butter in high-sided skillet set over medium heat; cook garlic 30 to 60 seconds or until fragrant. Sprinkle flour over top. Cook, stirring, for 2 to 3 minutes or until smooth.
Step 3
Slowly whisk in milk; bring to boil, whisking constantly. Reduce heat to medium-low; stir in Worcestershire sauce, chili powder, cumin, salt and pepper. Cook, stirring often, for 5 to 8 minutes or until sauce thickens. Remove from heat. Reduce heat to low; stir in half of the Cheddar until melted.
Step 4
Toss pasta with sauce until well coated; toss with remaining Cheddar. Keep warm.
Step 5
Heat half of the oil in large skillet set over medium heat; add tortillas, in batches, and cook for about 30 seconds per side or until tortillas are golden brown, adding more oil as needed. Keep warm on baking sheet in oven.
Step 6
Place 5 cooked tortillas on a work surface. Divide hot mac and cheese among tortillas and cap with remaining tortillas.
Step 7
Mix together sour cream and cilantro; transfer to piping bag. Pipe football laces onto each football shape. Serve with salsa on the side.
Tip
Substitute refried bean dip for salsa if desired.
---