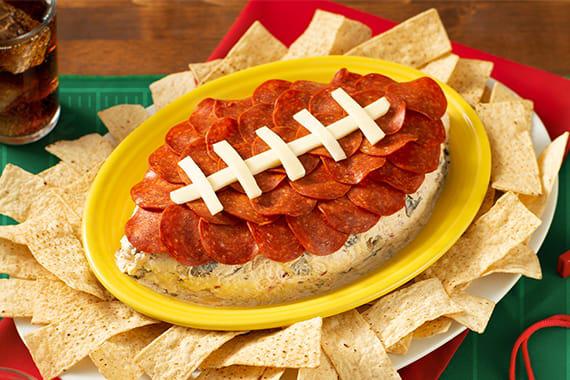 Football-Shaped Pepperoni Pizza Dip
Are you ready for some football-shaped food!? Here comes an appetizer that will tackle hunger, and win the day with a fun, super cheesy recipe. This pepperoni pizza dip is a touchdown for any game day festivities. Mix up a mushroom, mozzarella, and Gouda dip, shape into a football, top with pepperoni, and devour with Mission Strips Tortilla Chips. It's the best (and tastiest) play you'll make all day.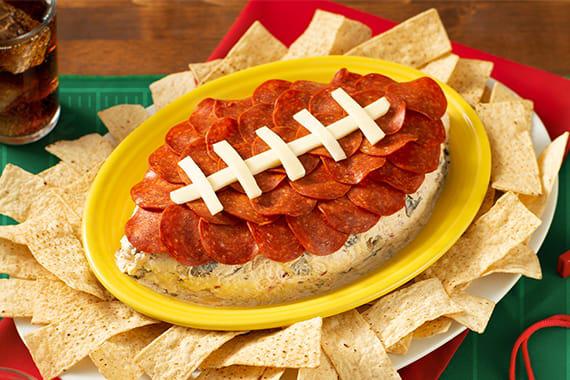 Featured Product
---
Ingredients
---
1
bag Mission Strips Tortilla Chips
1
cup sliced cremini mushrooms
½
tsp each salt and pepper
8
oz brick-style plain cream cheese, at room temperature
½
cup shredded mozzarella cheese
½
cup shredded smoked Gouda
¼
cup grated Parmesan cheese
¼
cup finely chopped tomatoes, squeezed to remove excess moisture
1
tsp dried Italian seasoning
1
slice mozzarella cheese, for garnishing
Instructions
---
Step 1
Heat oil in large skillet set over medium-high heat; cook mushrooms, garlic, salt and pepper for 8 to 10 minutes or until golden and tender. Let cool completely.
Step 2
Using electric mixer, beat cream cheese until smooth. Beat in mushroom mixture, shredded mozzarella, Gouda, Parmesan, tomatoes and Italian seasoning until well combined.
Step 3
Transfer mixture to sheet of plastic wrap; shape into a ball, then use plastic wrap to press into football shape (if mixture is too soft, refrigerate until firm enough to shape).
Step 4
Transfer to serving platter. Arrange pepperoni over top in overlapping pattern.
Step 5
Cut mozzarella slice into strips and arrange over dip to resemble football laces.
Step 6
Cover and refrigerate for 1 to 2 hours or until firm. Serve with tortilla chips.
Tip
Substitute diced roasted red peppers for tomato, if desired.
---