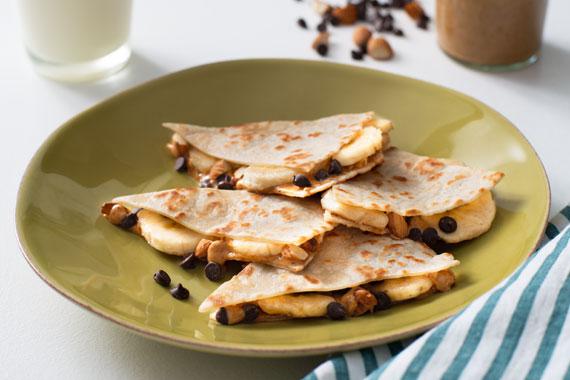 Funky Monkey Banana Chocolate Quesadilla
Ready to get funky! Treat yourself to a Funky Monkey Banana Chocolate Quesadilla. For breakfast, snack, or dessert, this gluten free dessert recipe is a wrap full of fun thanks to melted chocolate chips, fresh banana slices, and super healthy almond butter. Folded in a Mission® Gluten Free Tortilla Wrap, these quesadillas are a healthy gluten free dessert for all those hungry monkeys in your life.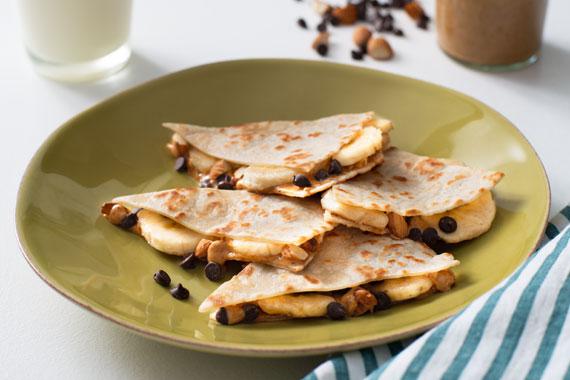 Featured Product
---
Ingredients
---
6
Mission Gluten Free Soft Taco Tortilla Wraps
½
cup Mini chocolate chips
2
tbsp. Canola oil, divided
Instructions
---
Step 1
Spread almond butter over half of each tortilla; top with banana slices, chocolate chips and almonds. Fold tortillas over to enclose filling.
Step 2
Brush half of the oil over bottom of large skillet set over medium heat; cook quesadillas, in 4 batches, for 1 to 2 minutes per side or until golden brown, center is heated through and chocolate chips start to melt.
Step 3
Let stand for 1 minute. Cut each quesadilla into wedges and serve.
Tips
Substitute coconut oil or butter for canola oil, if desired. Garnish with chocolate chips, if desired.
---