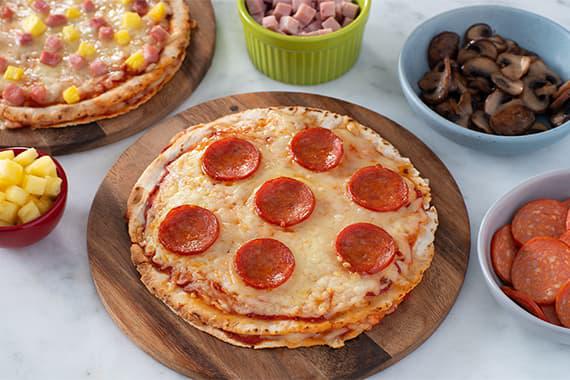 Gluten Free Tortilla Pizza
The ultimate crowd-pleaser. There's something for everyone in this ooey-gooey crispy Gluten Free Tortilla Pizza recipe. Double the sauce. Double the cheese. Double the wraps. Double the flavor. Double the love. Our double layered pizza goes all in on tasty toppings. But don't stop there! Have some fun, get creative, and choose your own double decker masterpiece.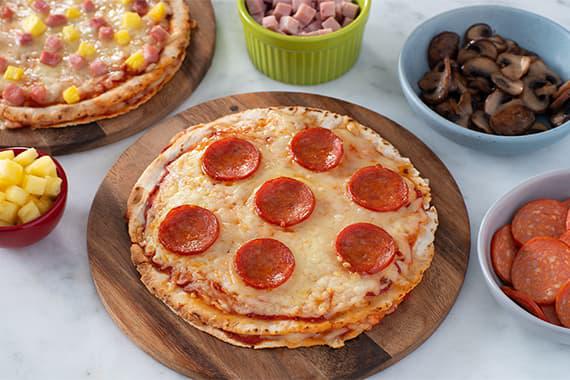 Featured Product
---
Ingredients
---
6
Mission Gluten Free Soft Taco Tortilla Wraps, warmed
1
cup Marinara sauce, divided
1 ¾
cups Mozzarella cheese, shredded and divided
¾
cup Cheddar cheese, shredded
1 ¾
oz. Pepperoni, sliced
¾
cup Mushrooms, cooked and sliced
Instructions
---
Step 1
Preheat oven to 425 ̊F. Spread 1/4 cup marinara sauce evenly over 3 tortilla wraps; sprinkle with mozzarella. Cap with remaining tortilla wraps.
Step 2
Arrange on large baking sheets; bake for 3 to 5 minutes or until cheese is melted and tortillas are lightly toasted.
Step 3
Arrange remaining marinara sauce, remaining mozzarella, Cheddar, pepperoni, ham, pineapple and mushrooms in individual bowls.
Step 4
For DIY pizzas, let everyone choose their own toppings. Bake for 8 to 10 minutes or until golden brown and cheese is bubbly.
Tip
Be sure to choose your favorite toppings.
---