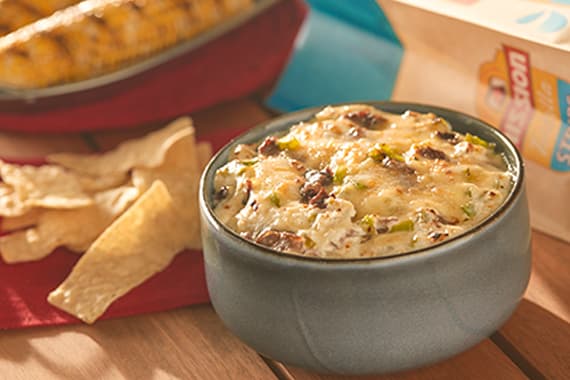 Featured Product
---
Ingredients
---
1
bag Mission Strips Tortilla Chips
1
green bell pepper, halved and seeded
1
medium onion, peeled and halved
8
oz. cream cheese, softened
4
oz. provolone cheese slices, diced
1
cup shredded mozzarella cheese (4 oz)
Instructions
---
Step 1
Step 2
Prepare a hot two-zone grill fire or preheat a gas grill on medium-high for 10 minutes, then turn one burner down to medium. Alternatively, preheat a grill pan or indoor grill over medium-high heat.
Step 3
Sprinkle steak with salt and pepper. Brush bell pepper and onion with oil. Grill steak, pepper, and onion over direct heat, turning occasionally, until steak is cooked to desired degree of doneness and vegetables are charred and tender, moving vegetables to cooler side of grill to finish cooking if needed.
Step 4
Transfer steak to a cutting board and let cool 5 minutes, then cut into ½" pieces. Finely chop pepper and onion.
Step 5
In a large bowl beat cream cheese, provolone, mozzarella, mayonnaise, and salt until smooth. Fold in steak, peppers, and onions. Transfer to a shallow baking dish just large enough to hold the dip and bake until heated through, about 15 minutes.
Step 6
Serve warm with Mission Strips Tortilla Chips
---