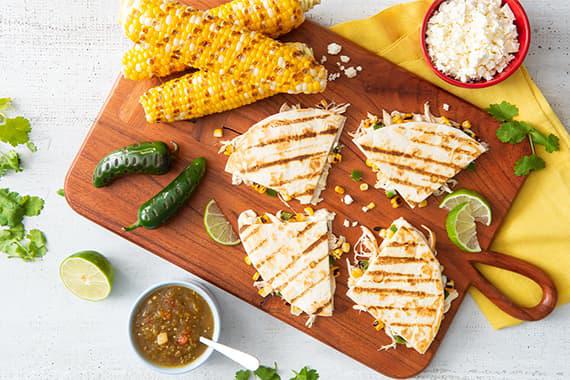 Grilled Elote Chicken Quesadillas
Everything you love about Mexican street corn, only now in a chicken-filled, toasted tortilla of cheesy goodness. This Grilled Elote Quesadilla with shredded chicken will save the day the next time you need a quick, delicious meal to wow your family and friends.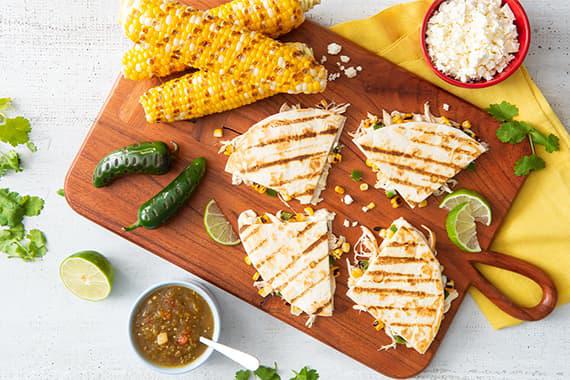 Featured Product
---
Ingredients
---
8
Mission Soft Taco Flour Tortillas
2
ears corn, husks and silks removed
2
jalapenos, halved lengthwise and seeded
8
oz brick-style plain cream cheese, room temperature
2
cups shredded cooked chicken
1
tsp each salt and pepper
1
cup store-bought salsa verde
Instructions
---
Step 1
Preheat grill to medium high heat; grease grate well. Grill corn for 12 to 15 min or until charred and tender all over. Grill jalapenos for 2 to 3 min per side or until charred and tender; cool slightly. Slice corn kernels off cob and dice jalapenos.
Step 2
Toss together grilled corn, cream cheese, mayonnaise, jalapeno and lime juice. Stir in chicken, cotija cheese, cilantro, cumin, garlic, salt and pepper.
Step 3
Preheat grill to medium heat; grease grates well. Grill for 1 to 2 min per side or until grill marked, toasted and cheese starts to melt.
Step 4
Cut into wedges and serve with salsa verde.
Tip
Serve with pico de gallo or guacamole.
---