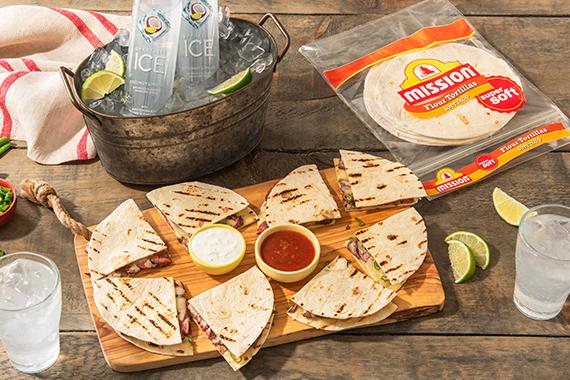 Grilled Flank Steak Quesadilla Recipe
Fire up the grill and get the drinks on ice! These grilled flank steak quesadillas are perfect for a summertime lunch or dinner. Slice up and season your meat. Melt the cheese. And grill on a soft tortilla for golden steak quesadillas. Then serve with a cold, crisp Sparkling Ice for the ultimate backyard experience.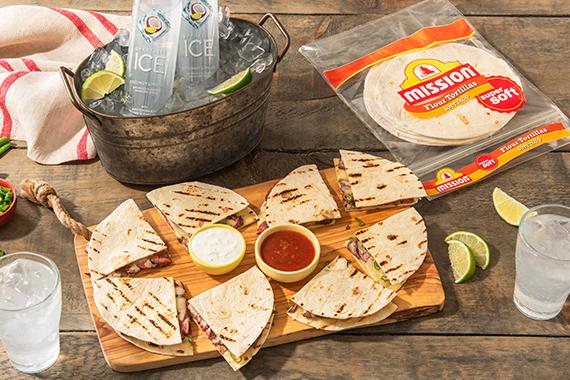 Featured Product
---
Ingredients
---
8
Mission Soft Taco Flour Tortillas
2
cups shredded Monterey Jack cheese, divided
2
green onions, thinly sliced
Instructions
---
Step 1: Season Steak
Preheat grill to high; grease grates well. Season flank steak with olive oil, salt and pepper.
Step 2: Grill Steak
Grill flank steak for 3 to 5 minutes per side or until instant-read thermometer reads 140°F to 145°F for medium, or until cooked as preferred. Let stand for 10 minutes; slice thinly against the grain.
Step 3: Add Tortilla Toppings
Sprinkle half of the cheese over 4 tortillas. Top evenly with sliced steak, remaining cheese and green onions. Top with remaining tortillas.
Step 4: Grill Steak Quesadillas
Reduce grill to medium heat; grill quesadillas for 2 to 3 minutes per side or until golden, crisp and well marked.
Step 5: Mix Lime Crema
Meanwhile, in small bowl, combine sour cream, lime zest and lime juice to make a zesty, tangy cream mixture.
Step 6: Cut Quesadillas
Cut steak quesadillas into wedges; serve with sour cream mixture and salsa for dipping. Serve with cold Sparkling Ice.
Tips
• Also delicious served with easy creamy guacamole for dipping. • For even cooking, remove the steak from the fridge 30 minutes before cooking.
---