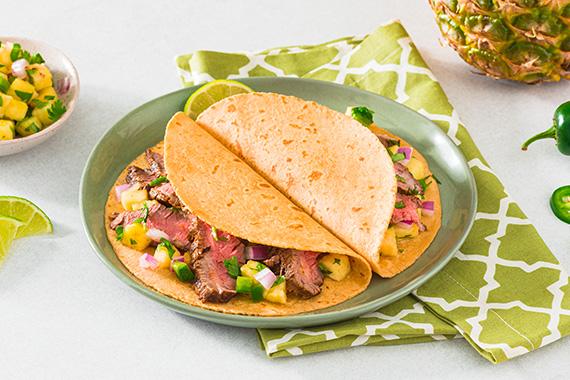 Grilled Flank Steak Tacos with Pineapple Salsa
Bright pineapple salsa is the perfect complement to delicious grilled steak. These mouth watering Grilled Flank Steak Tacos with Pineapple Salsa are high in flavor and protein, and made extra healthy when nestled in Mission Cauliflower Tortillas.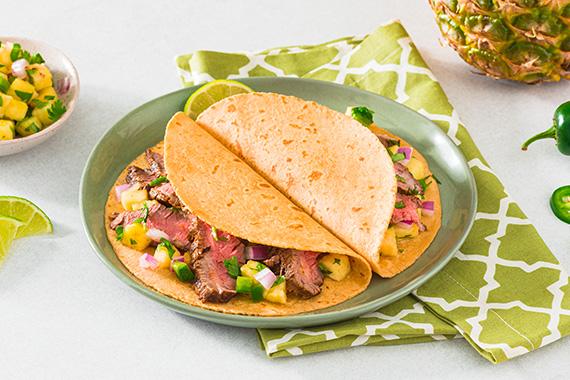 Featured Product
---
Ingredients
---
4
Mission Cauliflower Tortillas
¼
cup fresh lime juice, divided
2
cups diced fresh pineapple
⅔
cup chopped fresh cilantro
1
jalapeño pepper, seeded and diced
Instructions
---
Step 1: Make Pineapple Marinade
Stir together pineapple juice, 2 tbsp lime juice, garlic, chili powder, oil, 1 tsp salt and pepper; set aside.
Step 2: Marinade Steak
Place flank steak in resealable bag; pour in pineapple juice mixture, pressing out air. Seal bag and refrigerate for at least 30 minutes or up to 2 hours.
Step 3: Grill Steak
Preheat grill to medium; grease grate well. Remove steak from marinade. Grill steak for 4 to 6 minutes per side for medium-rare or until cooked as desired. Let stand for 5 minutes; slice thinly against the grain.
Step 4: Make Pineapple Salsa
Meanwhile, in bowl, toss together pineapple, cilantro, red onion, jalapeño, and remaining lime juice and salt.
Step 5: Warm Tortillas
Warm tortillas according to package instructions.
Step 6: Divide Fillings
Divide grilled steak among taco tortillas; top with pineapple salsa.
Tips
For vegan tacos, substitute sliced Portobello mushrooms or gluten-free protein-base chick'n strips for flank steak. Enjoy any remaining pineapple salsa with tortilla chips. Save on dishes: Make your pineapple marinade right in the resealable plastic bag, then add the steak to the bag.
---