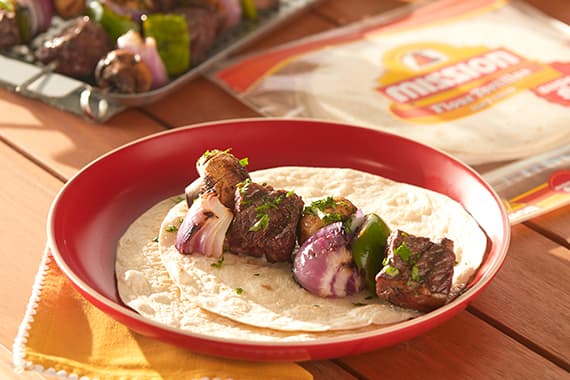 Featured Product
---
Ingredients
---
10
Mission Soft Taco Flour Tortillas
½
cup vegetable oil, divided
1
lb. sirloin steak, cut into 1" cubes
8
oz. button mushrooms, halved
1
red onion, cut into 1" chunks
1
green bell pepper, seeded and cut into 1" pieces
⅓
cup finely chopped cilantro
2
garlic cloves, minced or pressed
Instructions
---
Step 1
In a large bowl stir to combine ¼ cup oil, soy sauce, honey, and 1 teaspoon pepper. Add steak, mushrooms, onion, and pepper and toss to coat. Cover and marinate, refrigerated, at least 30 minutes or up to 2 hours. If using bamboo skewers, soak in water while steak marinates.
Step 2
Meanwhile, in a small bowl stir together remaining ¼ cup oil, vinegar, cilantro, garlic, pepper flakes, and remaining ¼ teaspoon pepper. Add salt to taste.
Step 3
Prepare a hot two-zone grill fire or preheat a gas grill on high for 10 minutes, then turn one burner down to medium. Alternatively, preheat a grill pan or indoor grill over medium-high heat.
Step 4
Thread beef and vegetables onto skewers. Place over direct heat or in grill pan or on indoor grill and cook, turning frequently, until browned all over, about 5 minutes. Transfer to cooler side of grill and cook, turning, until vegetables are tender, 5-10 minutes more.
Step 5
Serve beef and vegetables with tortillas and cilantro sauce.
---