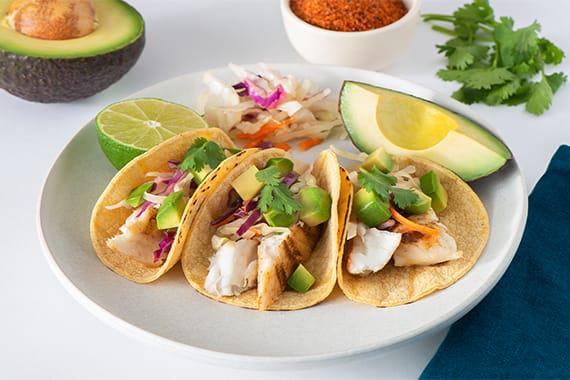 Healthy Low Carb Grilled Fish Tacos
Are you on vacation? You will be once you try these light and healthy low carb grilled fish tacos. Tender and flaky fish grilled to perfection. Spicy seasoning. Homemade garlic lime slaw. Avocado. Cilantro. A Mission 25 Calories tortilla. And you. It's fish taco bliss in 20 minutes.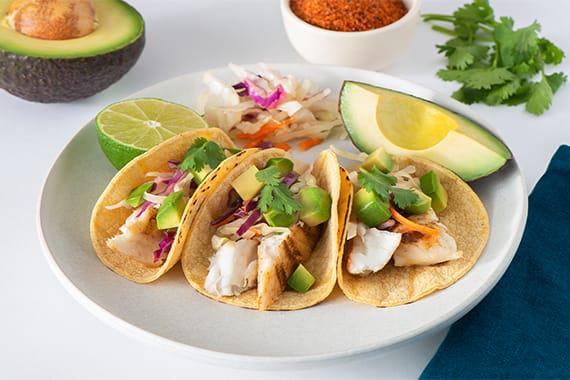 Featured Product
---
Ingredients
---
12
Mission 25 Calories Yellow Corn Tortillas, warmed
1 ½
lbs. White-fleshed fish fillets (snapper, mahi-mahi, tilapia)
4
cups Red cabbage slaw mix, shredded
1
Avocado, ripe, halved, pitted, peeled and diced
Instructions
---
Step 1
Preheat grill to medium-high heat; grease grate well. Pat fish fillets dry with paper towel and then brush with 4 tsp. olive oil. Combine chili powder, 1/2 tsp. salt, 1/4 tsp. pepper, and garlic powder; season fillets with mixture. Grill fish for 4 to 5 minutes per side or until fish just starts to flake when tested. Flake fish into big chunks.
Step 2
Warm tortillas according to package directions.
Step 3
Toss together cabbage mix, lime juice, garlic, and remaining oil, salt and pepper.
Step 4
Serve fish in warm tortillas and top with slaw, avocado and cilantro. Serve with hot sauce and remaining slaw on the side.
Tip
Alternatively, instead of grilling, broil fish in the oven on foil-lined baking sheet.
---