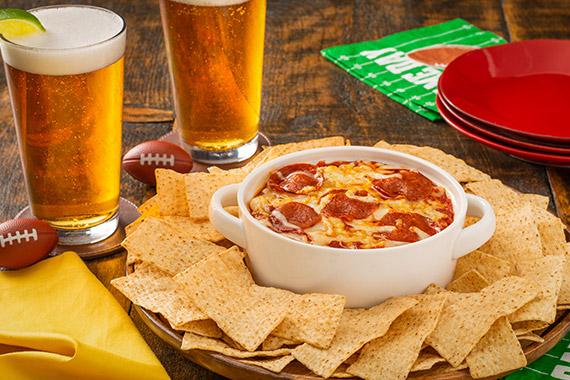 Hot Pepperoni Game Day Pizza Dip
Get all the delicious flavors of a pepperoni pizza in an extra cheesy baked dip. This easy hot pepperoni pizza dip recipe makes an irresistible snack sure to win over any game-day crowd.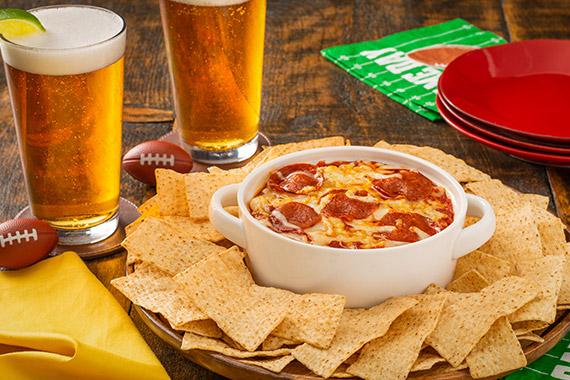 Featured Product
---
Ingredients
---
½
bag Mission Strips Tortilla Chips
1
cup tomato pizza sauce, divided
2 ½
oz pepperoni slices, divided
4
oz brick-style plain cream cheese, softened
1 ½
tsp dried Italian seasoning
1 ½
cups shredded mozzarella cheese, divided
Instructions
---
Step 1: Prep Baking Dish
Preheat oven to 400°F. Grease 5- x 2-inch round baking dish with olive oil. Spread 1/2 cup pizza sauce over bottom of baking dish; set aside.
Step 2: Dice Pepperoni
Dice 2 oz. pepperoni slices; set aside.
Step 3: Mix Dip
Using electric mixer, beat cream cheese, sour cream, garlic, Italian seasoning and pepper until smooth. Add shredded mozzarella cheese and fold in diced pepperoni slices.
Step 4: Bake Dip
Spoon into baking dish; smooth top. Spoon remaining pizza sauce over cheese mixture. Bake for 10 to 15 minutes, or until heated through. Remove from oven.
Step 5: Add Toppings
Sprinkle hot pizza dip with remaining mozzarella cheese; arrange remaining whole pepperoni slices over top. Bake for 3 to 5 minutes or until cheese is melted and pizza dip is bubbling. Let stand for 5 minutes. Serve with tortilla chips.
Tip
For crispy pepperoni slices, broil the dip during the last minute of baking time. Option to garnish your pizza dip with fresh basil.
---