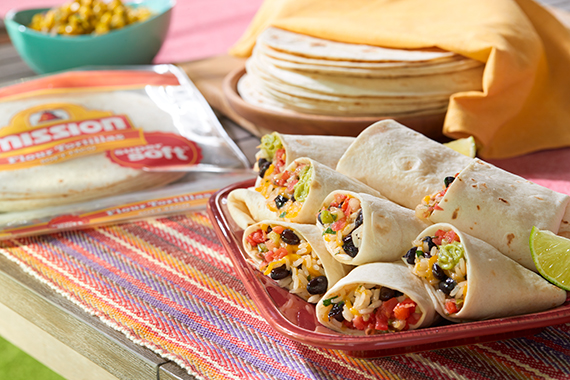 Loaded Black Bean and Rice Burritos
Our Loaded Black Bean and Rice Burritos recipe is carefully crafted to make your next meal time extraordinary. Get the step by step instructions to make this delicious dish.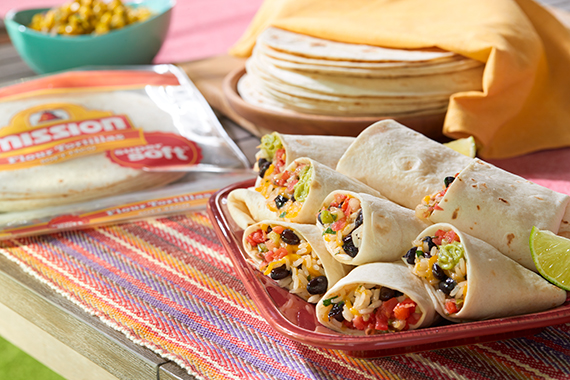 Featured Product
---
Ingredients
---
10
Mission Soft Taco Flour Tortillas
1
cup Long grain white rice
2
15oz Cans black beans, drained
2
cup Shredded sharp Cheddar cheese
Instructions
---
Step 1
In a medium saucepan combine rice, 1½ cups water, and salt. Bring to a boil then reduce heat, cover, and simmer on low heat until rice is tender, about 15 minutes. Take off the heat and let sit 5 minutes. Transfer rice to a large bowl and mix with black beans.
Step 2
Step 3
Lay tortillas on a countertop. Spread the center of each tortilla with 1 tablespoon sour cream. Top with rice and bean mixture, guacamole, pico de gallo, cheese, and cilantro.
Step 4
Fold sides of tortillas in, then fold bottom of tortillas up over the filling and roll up tightly. Wrap each burrito in foil or parchment paper and place on a baking sheet.
Step 5
Bake until burritos are heated through, about 15 minutes.
Step 6
Cut burritos crosswise in half and serve immediately.
---