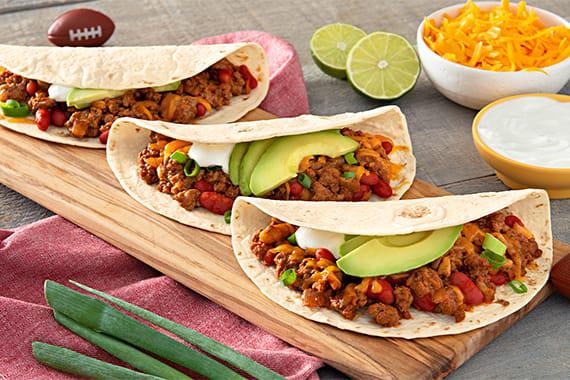 Loaded Chili Tacos
It's game day. The team can't win without you. But you can't root on an empty stomach. Enter our loaded chili tacos. This quick, homemade chili is the perfect filler for all your taco needs, loaded to the brim with lean beef, cheddar cheese, and spice. Sure to bring victory to any get together.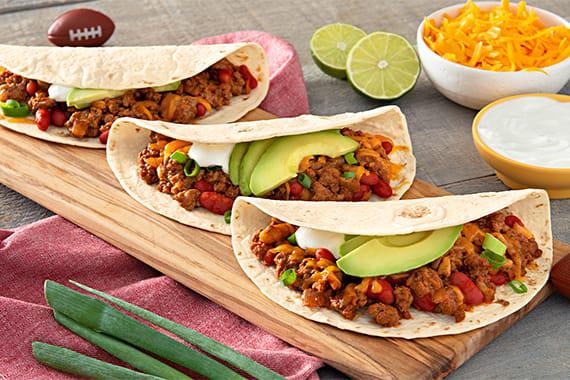 Featured Product
---
Ingredients
---
12
Mission Soft Taco Flour Tortillas
12
oz extra-lean ground beef
½
tsp each salt and pepper
1
can (15 oz) kidney beans, drained and rinsed
1 ½
cups shredded Cheddar cheese
1
ripe avocado, halved, pitted, peeled and diced
4
green onions, thinly sliced
Instructions
---
Step 1
Heat oil in large skillet set over medium heat; cook beef, salt and pepper for 5 to 8 minutes or until browned. Stir in onion, garlic and chili powder; cook for 3 to 5 minutes or until slightly softened.
Step 2
Stir in tomato sauce and beans; bring to boil. Reduce heat to medium-low; cook for 10 to 15 minutes or until thickened.
Step 3
Meanwhile, warm tortillas according to package directions.
Step 4
Assemble chili in warm tortillas with cheese, avocado, sour cream and green onions.
Tip
For a chili taco bar, serve chili with warm tortillas and extra toppings, such as shredded lettuce, shredded cabbage, bacon, jalapeños, olives and/or hot sauce, and let guests customize their own tacos.
---