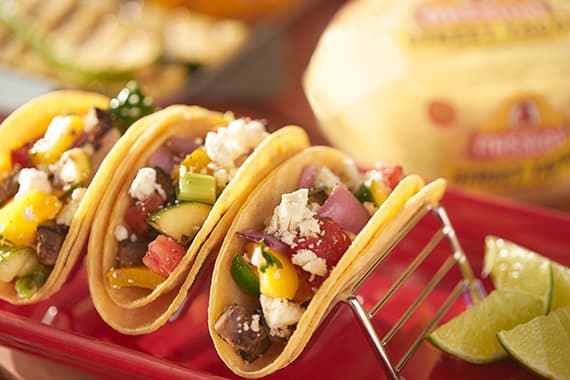 Featured Product
---
Ingredients
---
16
Mission Yellow Corn Street Tacos, warmed
4
garlic cloves, minced or pressed
1
large eggplant, sliced ½" thick
2
medium zucchini, sliced ½" thick
2
Roma tomatoes, halved lengthwise
1
red onion, cut into ¾" thick wedges
1
yellow bell pepper, seeded and halved
Instructions
---
Step 1
In a large bowl whisk to combine oil, vinegar, garlic, oregano, salt, pepper flakes, and pepper. Add eggplant, zucchini, tomatoes, onion, bell pepper, and green onions and toss to coat. Marinate at room temperature for 30 minutes.
Step 2
Prepare a hot two-zone grill fire or preheat a gas grill on high for 10 minutes, then turn one burner down to medium. Alternatively, preheat a grill pan or indoor grill over medium-high heat.
Step 3
Remove vegetables from marinade, allowing excess to drip off. Place on grill, in grill pan, or on indoor grill over direct heat and cook, turning once, until browned on both sides. Move vegetables to cooler part of grill, if applicable, and continue to cook until tender, about 10 minutes. Transfer vegetables to a cutting board and roughly chop.
Step 4
Divide tortillas between plates, stacking 2 tortillas on top of one another for each taco. Top with vegetables, feta, and parsley.
---