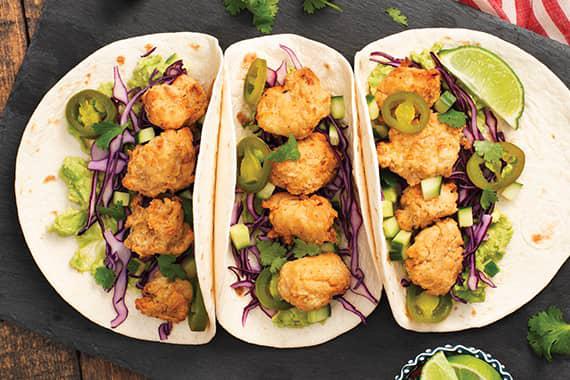 Mexican Air Fryer Chicken Tacos
Looking for an insanely good air fryer recipe? These quick and easy Mexican air fried chicken tacos are mouth-wateringly delicious. Combining crispy chicken, guacamole, spices, and hot sauce assembled on Mission® Super Soft Flour Tortillas, they are perfect for those nights when you want fried chicken, tacos, or both at the same exact time.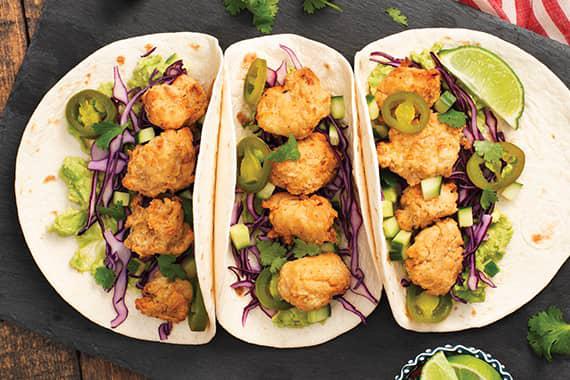 Featured Product
---
Ingredients
---
8
Mission Super Soft Flour Tortillas
2
tsp. ea. Salt and pepper, divided
1
lb. Chicken thighs, boneless, skinless and cut into 1-inch cubes
2
cups Purple cabbage, shredded
⅓
cup Pickled jalapenos, drained well
2
tbsp. Fresh cilantro, chopped
Instructions
---
Step 1
In shallow bowl, combine buttermilk, hot sauce, and 1 tsp each salt and pepper; add chicken, turning to coat well. Refrigerate for at least 4 hours or up to overnight.
Step 2
In shallow bowl, whisk together flour, cumin, chili powder, oregano, garlic powder, and remaining salt and pepper.
Step 3
Remove chicken from buttermilk mixture, reserving buttermilk mixture. Dredge chicken in flour mixture. Dip into buttermilk mixture; dredge again in flour mixture. Transfer to parchment paper–lined baking sheet; let stand for 10 minutes (this will help dry out and set the crust for crispy chicken).
Step 4
Spray air fryer basket with cooking spray. Place chicken in air fryer basket; spray chicken with cooking spray.
Step 5
Air fry chicken at 375°F, turning once, for 15 to 20 minutes or until internal temperature in thickest part of chicken reaches 165°F (if more time is needed, cook at 3-minute intervals until chicken is cooked). Meanwhile, warm tortillas according to package directions.
Step 6
Assemble fried chicken in warm tortillas with cabbage, cucumber, guacamole, salsa (if using), pickled jalapeños and cilantro.
---