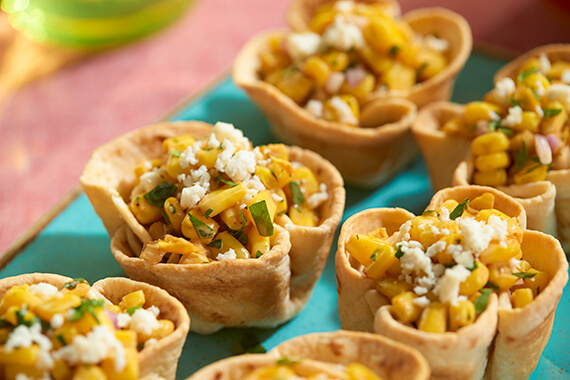 Mexican Street Corn Cups
Ditch the cob. Enjoy a cup. Mexican street corn cups (aka esquites) are a tasty Mexican snack sure to win over every occasion. This original elote in a cup recipe is fun, healthy, mess-free, and easy to make. Best of all, you can eat the cup!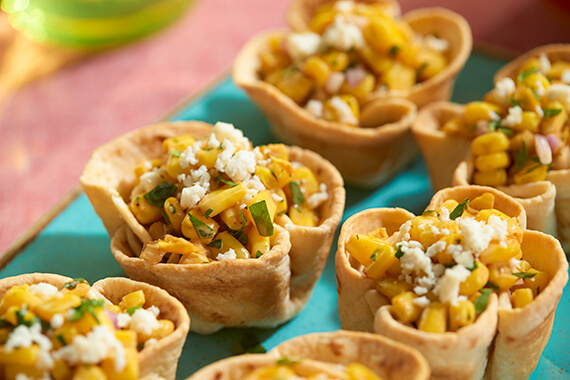 Featured Product
---
Ingredients
---
12
Mission Street Tacos Flour Tortillas
½
cup Crumbled cotija or finely shredded Parmesan
2
cup Fresh corn kernels or frozen corn, thawed and drained
½
Medium red onion, finely diced
½
Medium red onion, finely diced
Instructions
---
Step 1
Step 2
Lay tortillas on a countertop and lightly brush on both sides with oil. Gently fit tortillas into the cups of a standard muffin tin, pleating them to fit. Bake until lightly browned around the edges, 10-15 minutes. Transfer tortilla cups to a rack to cool.
Step 3
In a large bowl stir to combine cotija or Parmesan, mayonnaise, lime juice, and chili powder. Add corn, onion, and cilantro and stir to coat with dressing.
Step 4
When tortilla cups are cool, fill with corn mixture and serve immediately.
---