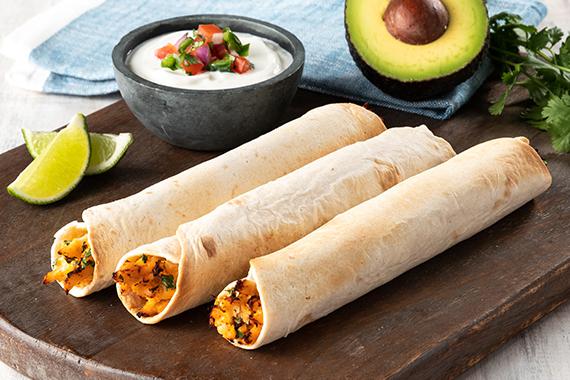 Air Fryer Chicken Taquitos
A healthy take on a traditional favorite. All you need is 5 ingredients and 5 minutes to make these homemade, crispy air fryer chicken taquitos (or flautas). For an added dose of healthy, roll up your creamy salsa chicken mixture in a low carb Mission Carb Balance Tortilla, then air fry to golden-brown perfection. Tasty doesn't get any easier than this.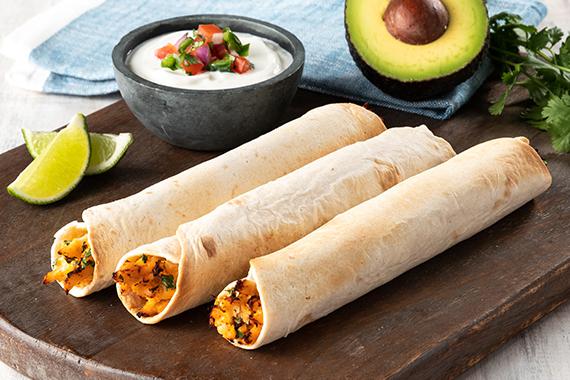 Featured Product
---
Ingredients
---
Mission Carb Balance Soft Taco Flour Tortillas
2
cups rotisserie chicken cooked
1
cup Greek yogurt (or sour cream)
¾
cup shredded cheese (optional)
Instructions
---
Step 1
Chop rotisserie chicken into small, bite-sized pieces. Combine chicken with salsa of choice.
Step 2
Add 1/4 cup chicken mixture to the Carb Balance Flour Tortilla. Sprinkle with shredded cheese if desired. Roll tortilla tightly and spray end with a bit of cooking spray to hold seal. Repeat until you roll enough taquitos for two servings and set aside.
Step 3
Cook in air fryer at 375 degrees for 5-7 minutes, checking halfway. Taquitos will be done when they are golden brown.
Step 4
Once the taquitos (or flautas) are done, add your favorite toppings and serve.
---