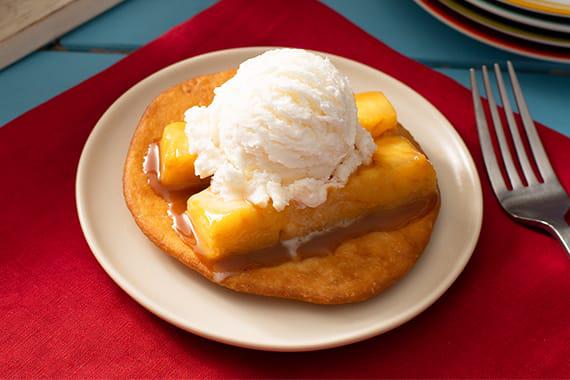 Pineapple Foster Rum-Soaked Tostada
Looking for a dessert recipe with tortillas? How about pineapples. Or, better yet, rum. Look no further. This Pineapple Foster Rum-Soaked Tostada is everything you never knew you were dreaming about. A fun twist on a traditional Banana Foster, just take some juicy grilled pineapples, soak in rum, layer over a crispy, golden-browned Sweet Hawaiian tortilla, and top with your favorite ice cream.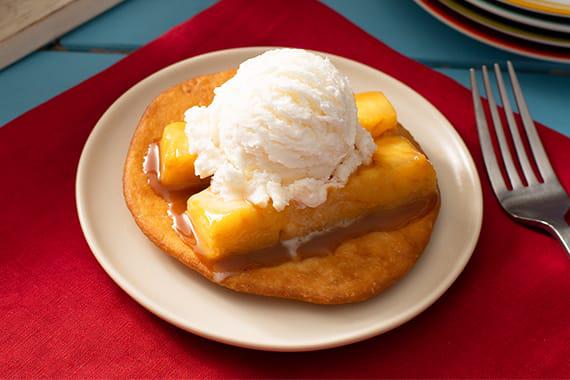 Featured Product
---
Ingredients
---
6
Mission Street Tacos Sweet Hawaiian Flour Tortillas
Instructions
---
Step 1
Heat 2 tbsp oil in skillet filled set over medium-heat. Working in batches, fry tortillas for 1 to 2 minutes per side or until golden brown and crisp, adding more oil as needed. Drain on paper towel-lined tray; set aside.
Step 2
Melt butter in large skillet set over medium heat. Add brown sugar and corn syrup. Increase heat to medium-high. Cook for 3 to 5 minutes or until brown sugar dissolves and starts to caramelize. Add pineapple spears. Continue to cook for 2 to 3 minutes or until sugar and pineapple is tender.
Step 3
Remove pan from heat and add rum. Transfer pan back to heat. Cook for 2 to 3 minutes or until sauce is thickened to caramel sauce consistency. (If desired, flambé rum by igniting sauce with long match or barbecue lighter. The alcohol should burn off in a few seconds and the flame will extinguish. If flame does not extinguish, cover pan with lid.) Finish sauce with vanilla and lime juice.
Step 4
Serve pineapple foster over crispy tortillas. Finish with scoop of ice cream.
---