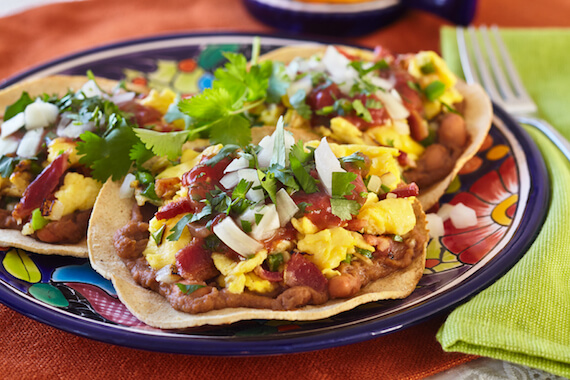 Featured Product
---
Ingredients
---
4
slices of Bacon, finely chopped
2
Tbsp Vegetable or Chicken broth
¼
cup Refried pinto beans (15oz can)
1
Tbsp Green bell pepper, chopped
Instructions
---
Step 1
To make red salsa: In blender place tomatoes, onion, garlic, serrano, cilantro, stock and salt. Blend until smooth. Cook 2 teaspoons canola oil in non-stick sauce pan over medium high heat. Add salsa, cook for about 4 to 6 minutes or until tomato changes to a deeper red color.
Step 2
Heat non-stick skillet over medium heat. Cook bacon stirring constantly until crisp or about 3 to 5 minutes and set aside. Leave about 1 tablespoons bacon fat in the skillet and remove the rest.
Step 3
Beat eggs, bacon, and pepper in a bowl and whisk until well combined. Pour the egg mixture into the skillet and cook until eggs are scrambled and cook; stirring frequently (about 4 to 5 minutes).
Step 4
To assemble tostadas: Spread 1 tablespoon refried pinto beans on top of each tostada. Divide egg mixture evenly and top with egg bacon mixture. Serve with red salsa.
---