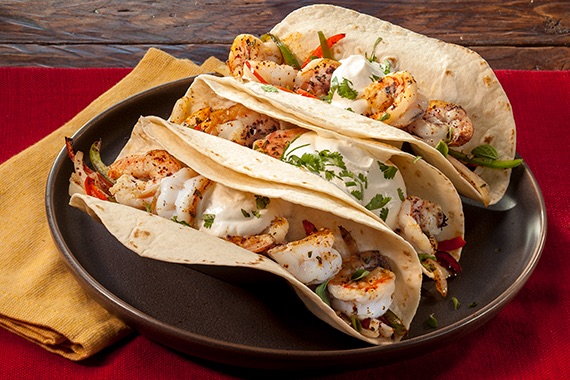 Sheet Pan Shrimp Tacos
Sheet Pan Shrimp Tacos baked to juicy perfection with herbs and spices — the perfect weeknight taco. Simple, easy, and healthy. All you need is one oven. One sheet pan. Eight soft tortillas. A handful of large, tender shrimp. And twenty minutes.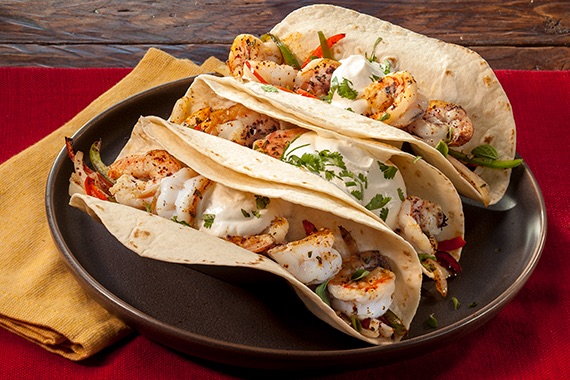 Featured Product
---
Ingredients
---
8
Mission Soft Taco Flour Tortillas, warmed
1 ¼
lb medium to large shrimp, peeled and deveined
1
red bell pepper, seeded and thinly sliced
1
green bell pepper, seeded and thinly sliced
1
large onion, thinly sliced
sour cream, chopped cilantro, and chopped green onion (optional)
Instructions
---
Step 1: Preheat Oven
Step 2: Bake Shrimp
On a large sheet pan toss together shrimp, bell pepper, onion, oil, chili powder, cumin, oregano, and salt. Roast until the shrimp are opaque and vegetables are just tender, about 10 minutes.
Step 3: Make Tacos
Serve vegetables and shrimp with tortillas. If desired, top your shrimp tacos with sour cream, cilantro, and/or green onion.
---