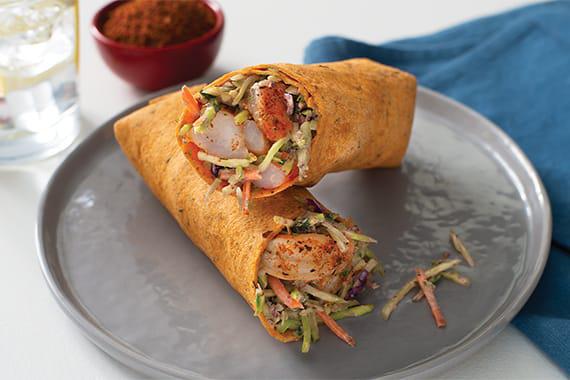 Shrimp Po Boy Wraps
Ditch the bread and carbs. Double down on the spice. This easy Cajun Shrimp Po Boy Wrap recipe takes everything you love about the New Orleans classic sandwich and adds a healthy twist by using a Mission Carb Balance Sundried Tomato Basil Tortilla Wrap. Let the good times (and tortillas) roll!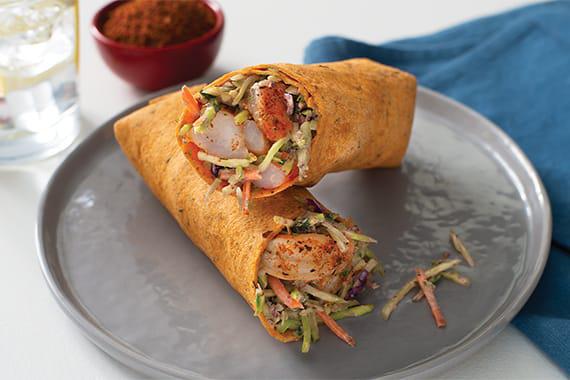 Featured Product
---
Ingredients
---
6
Mission Carb Balance Sundried Tomato Basil Tortillas, warmed
1
pkg. (12 oz.) Broccoli slaw mix
2
tbsp. Parsley, finely chopped
2
tbsp. Chives, finely chopped
1 ½
lbs. Medium shrimp, peeled and deveined, tail removed, patted dry
Instructions
---
Step 1
In large bowl, toss together broccoli slaw, mayonnaise, lemon juice, parsley and chives until well coated.
Step 2
Toss shrimp with Cajun seasoning. Heat oil in large skillet set over medium-high heat; cook shrimp for 3 to 5 minutes or until opaque and cooked through.
Step 3
Warm tortillas according to package directions. Arrange shrimp evenly down the center of each tortilla, leaving 1-inch border at both ends. Top with broccoli slaw mixture.
Step 4
Fold up bottom of tortilla over filling; fold in sides and roll up tightly starting from the bottom.
---