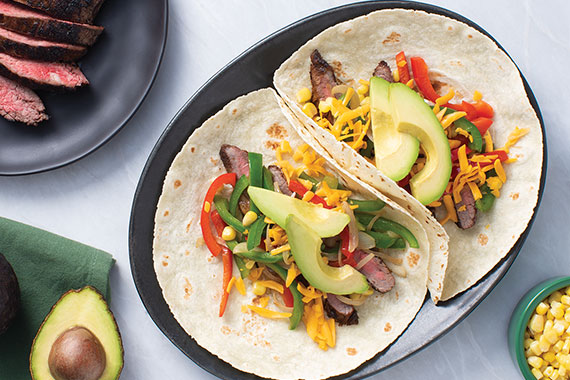 Southwest Steak Fajita Wraps
Hear that? It's the sound of sizzling steak goodness about to get in your belly. This Southwest Steak Fajita wrap recipe offers a cornucopia of grilled vegetables, cheese, avocados, spice seasoning, and — the piece de resistance — marinated slices of succulent, juicy, steak seared to perfection. Brought together for your enjoyment in a Mission® Gluten Free tortilla. Viva la flavor!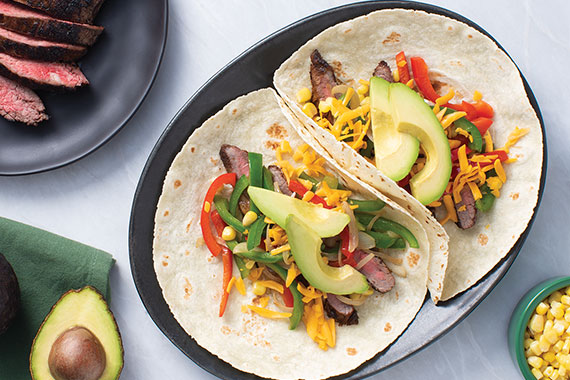 Featured Product
---
Ingredients
---
6
Mission Gluten Free Soft Taco Tortilla Wraps, warmed
1
1 lb. Flank or skirt steak, thinly sliced
5
tbsp. Olive oil, divided
1
(1 oz.) package or 2 tbsp. Gluten-free fajita seasoning mix
1
Yellow onion, large, halved and sliced
1
Red bell pepper, sliced
1
Green bell pepper, sliced
1
cup Corn kernels, fresh or frozen (defrosted)
½
cup Shredded cheddar cheese
1
Large, ripe avocado, pitted and sliced
Instructions
---
Step 1
Place sliced steak in a shallow dish. In a small bowl combine lime juice, 3 tbsp. olive oil, fajita seasoning and salt. Pour half of the marinade over the steak and toss to evenly coat.
Step 2
Heat 1 tbsp. olive oil in a large cast iron skillet or over medium-high heat and add onions and peppers. Cook, stirring frequently, until onions begin to soften and peppers are tender and slightly seared, about 8 minutes. Stir in corn and cook an additional 2 minutes. Remove vegetables from pan.
Step 3
Wipe out the skillet and warm remaining tbsp. olive oil over medium-high heat. Add steak and cook 4-5 minutes until seared. Reduce heat, transfer vegetables back to the pan along with remaining marinade and cook an additional 2-3 minutes.
Step 4
Lay out tortillas on a clean work surface and layer each with steak and vegetables, cheese and avocado. Roll into a wrap and enjoy!
---