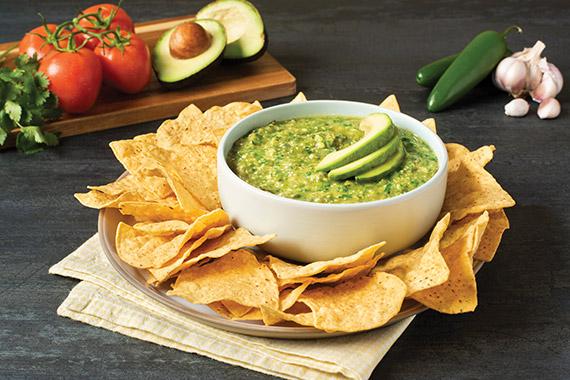 Spicy Guacamole Salsa
Enjoy the ultimate green salsa! Chunky yet creamy. Spicy yet smooth. This Guacamole Salsa combines the best of salsa verde with traditional Mexican guacamole, fusing zesty tomatillos, spicy chili peppers, and creamy avocados into a delicious dip like no other.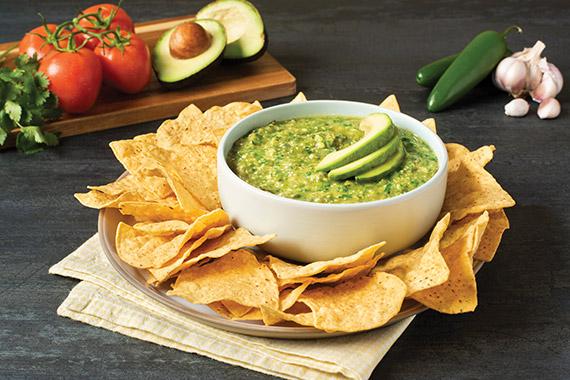 Featured Product
---
Ingredients
---
1
1 bag Mission Thin and Crispy Tortilla Chips
1
avocado, halved, pitted and peeled
1
can (29 oz.) tomatillos, drained
2
green onions, thinly sliced
½
cup fresh cilantro, finely chopped
¼
tsp each chili powder and cumin
Instructions
---
Step 1: Grill Peppers
Preheat grill to medium heat; grease grates well. Grill poblano and jalapeno for 6 to 8 minutes, turning frequently, or until charred. Transfer to heat-proof bowl and wrap with plastic wrap; cool completely. Peel skin off peppers, halve and remove seeds.
Step 2: Blend Salsa Ingredients
Place poblano, jalapeno, avocados, tomatillos, green onion, garlic, cilantro, lime juice, olive oil, salt, chili powder and cumin in a food processor. Pulse until blended but still slightly chunky.
Step 3: Serve Guacamole Salsa
Serve your spicy guacamole salsa with Thin and Crispy tortilla chips.
---